You are here
NATO agrees defence aid package for Jordan
By Mohammad Ghazal - Dec 07,2017 - Last updated at Dec 07,2017
BRUSSELS — NATO has approved a new defence capacity building package for Jordan, Jens Stoltenberg, secretary general of the 29-nation alliance, said on Wednesday.
A number of NATO allies will contribute to the new Crisis Management Centre in Jordan as part of NATO's new capacity building package for the Kingdom, Stoltenberg told reporters at the conclusion of the NATO foreign ministers' meeting, where they discussed ways to increase NATO's role in projecting stability and fighting terrorism, and other issues and challenges.
"Jordan is a highly valued partner and Jordan is an island of stability in the Middle East and NATO has been working with Jordan for many, many years," said the NATO chief.
"And part of the defence capacity package that we just agreed on, allies will contribute to the centre to use [it] as a tool in helping and supporting Jordan," he said.
NATO has different training activities at the King Abdullah II Special Operations Training Centre as part of the capacity building with Jordan, he said. Jordan helped NATO in providing support to Iraq and Iraqi officers were also trained at the centre.
"We are also working with Jordan when it comes to women, peace and security to make sure that we recognise that women have a role to play in the armed forces of Jordan," said the NATO chief, adding that there are different fields of cooperation such as training and capacity building and currently direct support to the crisis management centre.
Welcoming the contributions that partners, like Serbia and Jordan, are making to efforts to train Iraqi forces, he indicated that NATO started training local forces inside Iraq in areas such as countering improvised explosive devices, military medicine, equipment maintenance and reform of the country's security institutions, he said.
The ministers, he added, also looked to the future of the NATO training activity in Iraq and expressed their full commitment to it.
"Because instability abroad threatens us at home. From the Balkans to Afghanistan, NATO has great experience in training local forces and building the capacity of local institutions. These are the best tools to make our partners better able to defend themselves and to combat international terrorism," he said in the presser.
Discussions also covered means to engage further with NATO partners, to the south and to the east and the Brussels summit in July.
"We need to devote sufficient resources to these efforts, to make the best of the skills and capabilities we have," the NATO chief said.
"We know that projecting stability and fighting terrorism are generational challenges. There are no quick fixes. No overnight solutions. We have made progress and we are determined to do more," he added.
The ministers also looked into NATO's open door policy.
Related Articles
Dec 05,2017
BRUSSELS — As NATO foreign ministers convene on Tuesday to discuss the fight against terrorism, among other challenges, the alliance said it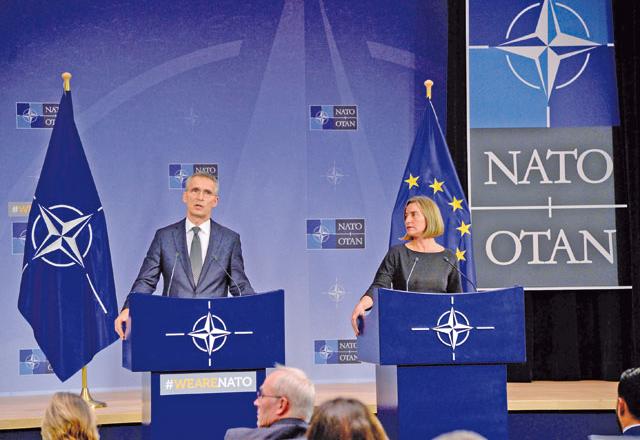 Dec 06,2017
BRUSSELS — NATO will assess its training and capacity building support for partners like Iraq and Jordan at the alliance's foreign ministers
Jul 10,2016
AMMAN/WARSAW — NATO allies agreed on Saturday to increase cooperation with Jordan as part of a plan to boost the alliance's support fo
Newsletter
Get top stories and blog posts emailed to you each day.