You are here
Business group sees thousands of US jobs from Pacific trade deal
By Reuters - Apr 21,2015 - Last updated at Apr 21,2015
WASHINGTON — The 12-nation Pacific trade pact would create nearly a quarter of a million US jobs due to increased foreign investment in the United States, a business group estimated on Monday, in the first look at the deal's employment impact.
The Trans-Pacific Partnership (TPP), a potential legacy-defining achievement for President Barack Obama, is near completion but has run into opposition from Democrats and others who worry the deal would cost US jobs.
The Organisation for International Investment (OFII), a trade group that represents the US operations of global companies, indicated that TPP would create 68,000 direct jobs tied to an estimated $20 billion boost in foreign direct investment.
The trade deal, which reaches from Japan to Chile, would also create another 165,000 "indirect and induced" jobs from US suppliers and other firms that employ additional workers when foreign spending in the United States increases, OFII said.
The group pointed out that California is likely to see the biggest boost in employment from TPP, followed by Texas and New York.
J. Muir Macpherson, an economist at Ernst & Young and one of the study's authors, said the TPP would create additional benefits for companies that already invest heavily in the United States.
"[So] even a small increase in foreign direct investment in the United States from the largest investors... would have very substantial impacts," he added.
Democrats worry that another free trade deal would siphon away US manufacturing jobs, as the North American Free Trade Agreement did in the 1990s.
Consumer group Public Citizen criticised OFII's report and its findings, saying other studies did not show that trade pacts like TPP actually boosted foreign investment into the United States.
"The report then translates its counterfactual hypothesis of increased foreign investment into a guesstimate of increased jobs, and then, incredibly, multiplies the spurious jobs number by three," said Ben Beachy, research director of Public Citizen's Global Trade Watch.
Public Citizen has said trade agreements over the last 20 years have led to a net loss of nearly 5 million manufacturing jobs in the United States and depressed wages.
But OFII estimated that the US manufacturing sector would add 52,000 jobs due to increased investment from the Pacific deal.
The group also said that a separate US trade agreement with Europe, the Transatlantic Trade and Investment Partnership, would create 334,000 direct jobs and 865,000 indirect or induced jobs tied to higher foreign direct investment in the United States.
Separately, Japan's top trade negotiator sounded an optimistic note on Tuesday that he could reach a deal with the United States that is essential to creating a free trade pact covering 12 countries.
A senior US State Department official also said on Monday that a deal is within "grabbing distance" as the world's largest and third-largest economies race to conclude bilateral negotiations that cover trade in car parts and farm products.
Japan and the United States have been locked in negotiations over the TPP, a US proposal that would connect a dozen economies by cutting trade barriers and harmonising standards covering two-fifths of the world economy and a third of global trade.
"I recognise that some countries were worried about the lack of progress between Japan and the United States," said Koji Tsuruoka, Japan's chief TPP negotiator. "However, bilateral negotiations over the past few days are a sign to everyone that we are making progress. We are now in the final stage."
A deal between Japan and the United States is considered vital to a long-delayed TPP trade pact, as their economies would account for 80 per cent of the group.
The United States and Japan have narrowed differences on trade in rice and cars, Japan's Economy Minister Akira Amari said on Tuesday after a marathon meeting on Monday with US Trade Representative Michael Froman.
"We haven't solved all of our problems, but we are headed in that direction," Amari added.
Amari met Froman for two days in Tokyo to discuss details of a possible deal, adding momentum to multilateral efforts toward TPP.
The two countries will continue working-level talks to try to narrow their differences further, Amari said.
When asked if he would meet Froman again before the Japanese prime minister travels to the United States next week, Amari said he wanted to "take a break".
A trade deal between Japan and the United States is within reach, the US State Department's top diplomat for Asia, Danny Russel, said on Monday.
"We are within grabbing distance of an agreement with the Japanese," Russel told the Council on Foreign Relations.
The comment by Russel, the State Department's assistant secretary of state for East Asia and Pacific Affairs, comes ahead of an April 28 summit between US President Barack Obama and Japanese Prime Minister Shinzo Abe.
Related Articles
Oct 11,2015
WASHINGTON — US President Barack Obama took a dig at China Saturday as he defended the new Trans-Pacific Partnership (TPP) free-trade deal,
Apr 07,2014
Japan and Australia clinched a basic trade deal on Monday to cut import tariffs, as US and Japanese officials stepped up efforts to reach a parallel agreement that would re-energise stalled talks on a broader regional pact.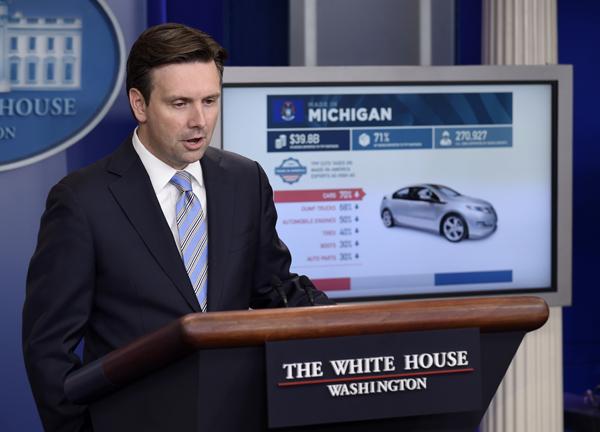 Nov 05,2015
WASHINGTON/SYDNEY — The long-awaited text of a landmark US-backed Pacific trade deal was released on Thursday, revealing the details of a pa
Newsletter
Get top stories and blog posts emailed to you each day.