You are here
Industry, trade minister accentuates Jordan's development and growth
By Petra - Jun 07,2015 - Last updated at Jun 07,2015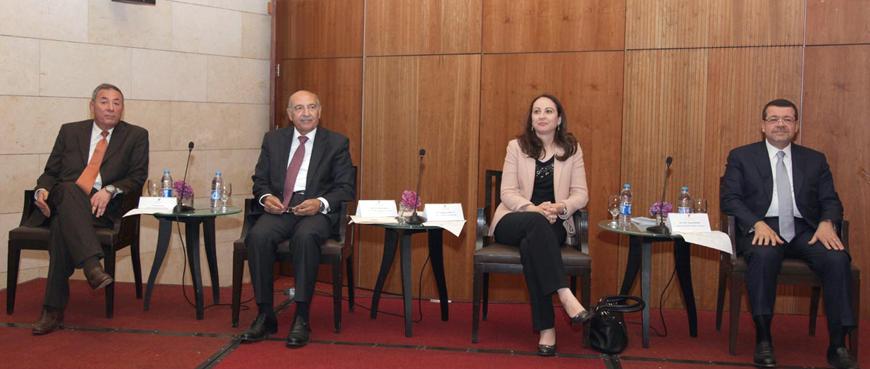 Industry and Trade Minister Maha Ali (2nd right) on Sunday presides over a forum of Arab and foreign economic and commercial attachés at embassies in the Kingdom (Petra photo)
AMMAN — Despite difficult regional political conditions, Jordan has been able to achieve positive economic indicators, Industry and Trade Minister Maha Ali said on Sunday.
Speaking at a forum that brought together Arab and foreign diplomats working as economic and commercial attachés at embassies in the Kingdom, she said Jordan has succeeded to achieve noticeable economic progress and has worked on reforming the business environment.
Gross domestic product (GDP) grew by 3.1 per cent in 2014 compared to a growth by 2.8 per cent in 2013, she added, forecasting a similar growth rate this year.
During the first four months of this year, inflation dropped by 1.1 per cent and the Central Bank of Jordan reserves reached around $13.6 billion, she indicated at the forum.
Moreover, the budget deficit as percentage of the GDP after aid dropped to 2.3 per cent compared with 5.5 per cent in 2013, she said, highlighting the Kingdom's economic reform over the past 10 years, its infrastructure, trained workforce, effective banking sector and IT services.
She also highlighted the Kingdom's industrial estates and development zones that have become home for diversified industrial activities.
Emphasising the government's efforts to provide stable and attractive investment environment, she cited the recently endorsed investment law, highlighting the incentives and the "Investment Window".
The minister also mentioned the "Jordan 2025" economic blueprint which represents a long range strategy that defines the overall framework of economic and social policies.
Ali noted that the strategy is based on providing equal opportunities, enhancing the rule of law, and broadening the base of participation in the decision-making process.
She also mentioned the achievements and the agreements signed at the World Economic Forum that was recently held at the Dead Sea.
Several other Jordanian officials spoke at the forum, including Foreign Ministry Secretary General Mohammad Tayseer Bani Yassin and Jordan Investment Commission President Montaser Oqlah, highlighting Jordan's favourable investment environment
The forum, organised by the Jordan Chamber of Industry (JCI), brought together commercial and economic attachés of the various diplomatic missions in the country to exchange their views on ways to develop economic and commercial relations with their respective countries, according to JCI President Ayman Hatahet.
Related Articles
Nov 28,2016
AMMAN — Three Jordanian industrial companies have recently applied to benefit from the deal between the EU and Jordan on relaxed rules of or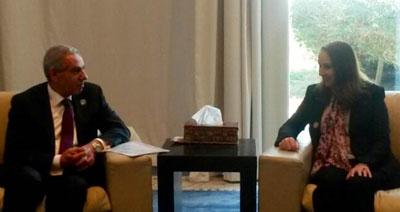 Feb 22,2016
AMMAN — Industry, Trade and Supply Minister Maha Ali discussed enhancing economic cooperation with several ministers and officials during th
Apr 26,2016
AMMAN — Industry, Trade and Supply Minister Maha Ali on Tuesday inaugurated the Jordanian-Czech business forum, organised by the Jordan Cham
Newsletter
Get top stories and blog posts emailed to you each day.