You are here
Oil price slide hits Kuwait gov't income
By AFP - Nov 16,2014 - Last updated at Nov 16,2014
KUWAIT CITY — Government revenues in Kuwait dropped 4.4 per cent in the first half of the fiscal year due to sliding oil prices, but the energy-rich emirate still reported a healthy provisional surplus.
Official figures posted Sunday on the finance ministry website put April-September public income at 15.1 billion Kuwaiti dinars ($52.1 billion) compared with 15.8 billion dinars in the same year-ago period.
Oil income, which accounts for 94 per cent of revenues, dropped 5.3 per cent to 14.2 billion dinars in the first half from 15 billion dinars previously, according to the new figures.
Despite the fall, the emirate still managed to post a provisional budget surplus of 9 billion dinars.
Spending was 6.1 billion dinars, up 19.6 per cent on last year's 5.1 billion dinars.
The sharp dive in global oil prices did not reflect fully on the Kuwaiti figures because most of the slump took place in October and deepened in November.
The average price for Kuwaiti oil in April-August was $103.92 a barrel, according to Adnan Abdul Samad, the head of the parliamentary committee on budgets.
Abdul Samad said Wednesday the price for Kuwaiti oil dropped to an average of $95.4 and $84.3 a barrel in September and October, respectively.
The slide has continued this month, with the price of oil closing Friday at $71.40 a barrel, less than the breakeven rate of $75 a barrel estimated in the 2014-2015 budget, according to Kuwait Petroleum Corp.
Abdul Samad also warned that Kuwait, which posted a budget surplus in each of the past 15 fiscal years due to high oil prices, could see its first shortfall at the end of this fiscal year if the trend continues.
As a result of the windfall, Kuwait's fiscal reserves reached $548 billion as of June 30.
The fiscal year starts on April 1 and ends on March 31 in Kuwait, a tiny Gulf state which has a native population of 1.25 million and is also home to about 2.8 million foreigners.
Separately, Kuwait warned Sunday that action was needed from members of the organisation of Petroleum Exporting Countries (OPEC) to halt the "sharp decline" in oil prices after the value of global crude hit a four-year low.
A joint meeting by the oil-rich emirate's Cabinet and its Supreme Petroleum Council — the highest decision making body on energy — chaired by Prime Minister Jaber Mubarak Al Sabah reviewed "necessary steps that need to be taken" to halt the price slide, said a statement cited by the official KUNA news agency.
The measures included "consultations with OPEC members to discuss taking the best means to support oil prices and safeguard the interests of all sides".
The statement did not call for any change in OPEC production, which is currently 600,000 barrels a day above its recommended output ceiling of 30 million.
The 12-nation OPEC cartel, which accounts for a third of global oil output, will meet on November 27 in Vienna.
Oil Minister Ali Al Omair briefed the meeting about the slide in oil, the statement said.
No new measures were announced.
Related Articles
Jan 04,2014
Kuwait's provisional budget surplus shrank 15 per cent in the first six months of the current fiscal year mainly due to a sharp jump in expenditures, according to the finance ministry.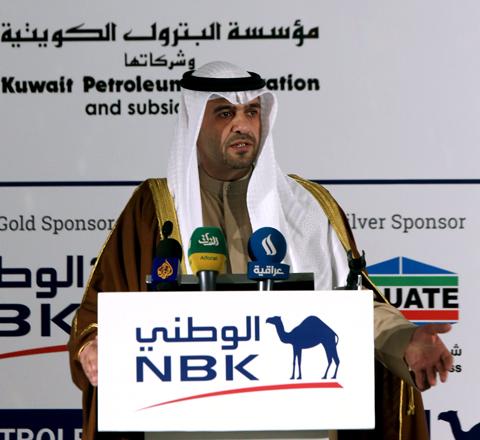 Jan 28,2016
KUWAIT CITY — Kuwait, a member of the Organisation of Petroleum Exporting Countries (OPEC), projected a record budget deficit for the fiscal
Feb 10,2014
Kuwait's provisional budget surplus shrunk in the first nine months of this fiscal year as spending rose 18 per cent and income was unchanged, according to official figures released Sunday.
Newsletter
Get top stories and blog posts emailed to you each day.