You are here
Women and identity
By Ica Wahbeh - Apr 04,2017 - Last updated at Apr 04,2017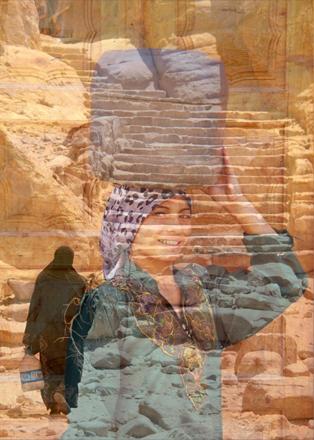 Work by Charlotta Sparre on display 'ABCD A Dream of Four Cities' exhibition at Jacaranda Images through April 30 (Photo courtesy of Jacaranda Images)
AMMAN — Little over five years since her first exhibition at Jacaranda Images, and as part of The Image Festival Amman, now in its sixth edition, Charlotta Sparre is back with uplifting photographs that reflect her take "on women and identity".
"For the last few years, I've been thinking more and more about identity; it's a reflection of the world we are living in — in other places than those we were born, meeting different people" who share the experience.
I as ambassador — now to Egypt, before to Jordan — "having spent more time in the Middle East than in Sweden, I feel Swedish, European, but I also feel more and more an Arab".
Then, there are the people who "make the journey in the different direction", nowadays mostly as refugees.
"We have more in common being in two places and having to relate to them," said Sparre who, between studying and working in the Mideast, spent more than 34 years "dealing with the region" and 20 living in it.
Part of her identity, said this photographer with a sharp eye for beauty who surprises with most original images, is being a woman, being able to identify with other women and get inspired by them.
And being a woman is first a "generational question", she says — "girl, woman, mother, grandmother, transformations in our bodies, different layers" of identity.
There is a "a special bond" between women; "we carry the multiple identities with us, they become layers that are almost like my pictures, intermingled".
Her photographs of women, superimposed images, the Sparre trademark, are exhibited under the title "A story about her".
Simple and as telling as her snapshots that explore the transformation of the little girl into a young woman, a mother and a grandmother, but also capture the many occupations of women, the things women do, from the traditional tasks they have been carrying out "throughout history" to the "more festive things".
Sorted somehow by "themes", in the women and water relationship one can see a woman carrying a heavy water vessel on her head with a straight, proud posture and an engaging smile, a group washing clothes in the Nile or a few rowing a boat, obviously enjoying themselves in a moment of unguarded, almost childish pleasure.
Or maybe they are out fishing; it is up to the viewer's imagination to "read" into this image, as it is in most others, for, the immediate picture may seem obvious: women going about their tasks, mostly happy and smiling, always serene and at peace with the world, but the many layers, result of the superimposed photographs, give the whole depth and an air of mystery that invites the eye and holds it long in search of meanings, details, unexpected imagery.
"Of all the exhibitions, this was the easiest. I had so much material. I went through thousands of pictures to find the environments that tell the stories I want to tell. Other aspects — how many of those tasks are so much part of our identity, what we cook, handicrafts, the way we dress, even spirituality and education" are also captured or hinted at.
And so the viewer is met, and is enchanted by, an array of images showing young girls playing, in the company of older women — mothers or grandmothers — talking, like girls do, studying, sharing secrets, dressed in traditional clothes or in their finest.
A girl flying a kite on Jabal Qalaa in the foreground is projected against an enlarged portrait of a woman wearing niqab whose warm eyes seem to watch over the carefree girl.
Is it her mother, her guardian angel, a benevolent neighbour?
An almost invisible young girls is running towards a grandmotherly figure seated peacefully against a modern, glowing building in the background. It is her granddaughter, or is it a fleeting image of her childhood?
The beauty of Sparre's images is that while she tells her story, the viewer can create his own. The material is so rich that the tapestry of stories could be infinite. They generate each other, acting like an invisible Scheherazade and enabling myriad narratives.
The artist's intention was to depict an image of women in the Middle East — her photographs are from Egypt, Jordan, Palestine, Syria, Lebanon — that is opposed to the perception in the West, as victims, oppressed.
"Of course, there are also [such women], but I realised that all the women in the pictures are either happy, smiling or confident. It brought the feel of positive energy that reflected the story I wanted to tell, but wasn't even aware of it."
A "happy" exhibition it is, indeed. One that "makes me happy to combine identity and women, bringing out this positive image of incredibly strong women that I feel privileged to have met in all parts of society".
So whether preparing food or selling it, bonding with their daughters, performing the daily chores with gracefulness and ease or simply posing for the camera, Sparre's women "talk" about friendship, sisterhood, childhood, motherhood and "bonds created at a very early age that we are blessed to carry all our lives".
The images reflect women's generosity, friendship, playfulness, intimacy and spirituality. They combine traditional elements — intricate masonry on mosques in Cairo serves as a background for a wistful young woman peering somewhere beyond the lens, dressed in equally intricately embroidered top and silver jewellery — and modernity: a careful look shows she has a cell phone under her headcover, for all one knows listening to very modern music.
It is a complex world, that of women. In these Sparre photos, it is a serene, peaceful and happy one, too, a world that offers a glimpse at the multifaceted personality of a woman, at the many "layers" that the artist carefully peels off but, at the same time, superimposes, herself playfully inviting the viewer to decipher the eternal mystery of life: woman.
This much-needed feel-good exhibition runs through April 30.
Related Articles
Mar 22,2014
In his photography exhibition "Orientalism" at Jacaranda Images, prolific Egyptian artist Mohamed Abouelnaga does not attempt to give a clear-cut answer to what the Orient is; instead, he chooses to play on its elusive and enigmatic nature.
Oct 23,2017
AMMAN — "An 'Easternised' Scandinavian": this is how an art critic described the Danish painter Bente Christensen-Ernst, whose latest work i
Apr 05,2018
AMMAN — A series of photographs taken inside the desert of Wadi Rum provides the local audience with an intimate insight into the life of Be