You are here
2015 a 'record year' for US-Jordanian economic engagement — Wells
By Mohammad Ghazal - Dec 16,2015 - Last updated at Dec 17,2015
AMMAN — The US is committed to Jordan's economic prosperity and, despite regional security challenges, the Kingdom remains a beacon of opportunities for investors and a hub for US business interests, US Ambassador Alice G. Wells said Wednesday.
The US will continue to support Jordan's development goals, particularly in the face of regional instability, she said at an event held by the American Chamber of Commerce in Jordan attended by several member companies and businesspeople.
"America's relationship with Jordan is one of our most important in the region and the intensity of high-level consultations between our leaders reflects this special US-Jordanian relationship and the role Jordan plays in the Middle East," the ambassador said.
Building on previous efforts to boost economic ties, Wells added that the US and Jordan must continue to confront shared challenges and seize every opportunity to advance shared interests.
"Our commercial service has an active plan for trade missions in 2016, including a trade mission to the United States early in 2016 to explore US energy storage technologies, which have the potential to revolutionise Jordan's energy sector as they represent the cutting edge of global energy solutions," Wells said.
The ambassador added that the embassy is coordinating with AmCham to advocate for improvements in the business environment.
"We are engaging the government and private sector to help streamline the regulatory environment, as the World Bank Ease of Doing Business report indicates what we hear from US and Jordanian companies — other countries are moving faster than Jordan to facilitate trade and investment," she noted.
The ambassador said 2015 was a "record year" for bilateral economic engagement anchored by the 2001 Free Trade Agreement.
In 2014, total bilateral trade, facilitated by tariff reductions in the FTA, exceeded the $3.4 billion mark — an all-time high.
Between January and September of 2015, trade exceeded $2.1 billion. While US exports to Jordan decreased, Jordanian exports to the United States in 2015 are up by almost 9 per cent, at a time when overall Jordanian exports fell by more than 7 per cent, according to the ambassador.
The FTA has also created 50,000 more direct jobs for Jordan and even more indirect positions, she said.
The US renewed its memorandum of understanding with Jordan, which reflects Washington's intent to provide $1 billion in bilateral assistance annually from 2015-2017, Wells said.
The US has provided Jordan with $3.75 billion in loan guarantees over three years designed to support specific reforms that promote economic stability, growth, and prosperity for the Jordanian people.
"The 2015 $1.5 billion loan guarantee is the largest US loan guarantee in our history," she said.
"Our security assistance has also grown to record highs, a testament to the security partnership that is a foundation of our bilateral relationship."
Speaking during the gathering, AmCham-Jordan Chairman Mohammed Bataineh said the chamber has developed a new strategic plan that focuses on promoting two-way trade by diversifying Jordanian exports and American imports under the FTA, as well as expanding access to the US market for Jordanian companies.
"In the coming years, the strategic plan aims to achieve objectives and programmes that ... support our members and their business objectives in a manner that will further develop the rapidly expanding trade and investment between Jordan and the US," he said.
Related Articles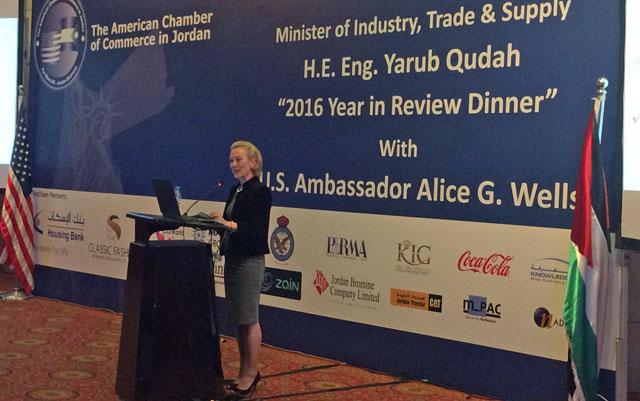 Dec 08,2016
AMMAN — US Ambassador to Jordan Alice G.
Aug 22,2016
AMMAN — US Ambassador Alice G.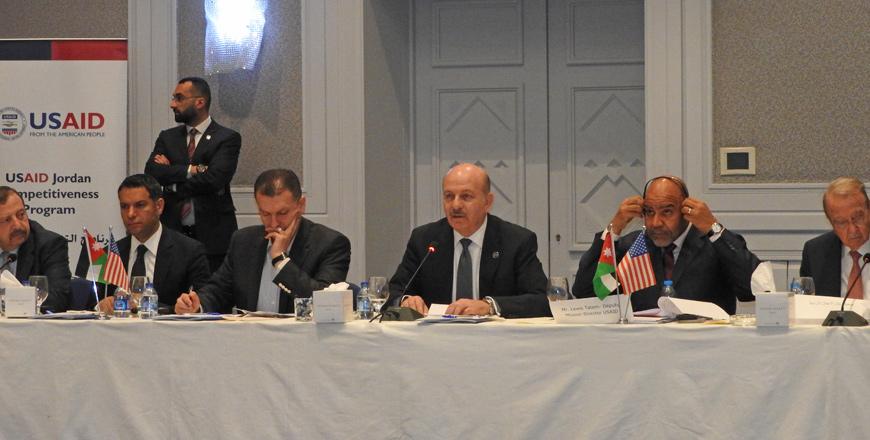 Mar 29,2018
AMMAN — The American Chamber of Commerce in Jordan (AmCham) on Thursday launched the National Coalition of Trade and Investment Strategy dub
Newsletter
Get top stories and blog posts emailed to you each day.