You are here
Agents abort attempt to smuggle 135,000 Captagon pills
By Rana Husseini - Jan 27,2015 - Last updated at Jan 27,2015
AMMAM — Anti-Narcotics Department (AND) and customs agents have aborted an attempt to smuggle 135,000 Captagon pills at the Omari border crossing, official sources said on Tuesday.
Agents were patrolling the area and spotted several oil containers dumped in a yard at the border crossing, a senior AND official said.
"The agents opened one container and found Captagon pills hidden inside it," the official told The Jordan Times.
Agents conducted a thorough search of the yard and found five containers in total, according to a statement released by the Public Security Department.
The official noted that criminal lab experts were called to the scene and took fingerprints in the hope of determining the identity of the person "if he is in our database".
"It seems that it was a truck driver who wanted to smuggle the narcotics into Saudi Arabia, but when he saw strict search procedures being conducted he became afraid and abandoned the illegal shipment in the yard of the border crossing," the official explained.
Officials have previously said that Jordan is still considered a transit country when it comes to Captagon smuggling.
These pills are usually manufactured and transported from neighbouring countries in the north via Jordan to rich countries on the southern borders, because one Captagon pill is worth at least JD7 in these states, while its market value in Jordan does not exceed JD1 per pill.
Captagon (fenethylline) is a synthetic stimulant similar to amphetamine.
Although banned in most countries in the 1980s, illegally produced and smuggled Captagon — sometimes containing amphetamine instead of fenethylline — is a common drug abused in the Middle East, according to web sources.
Related Articles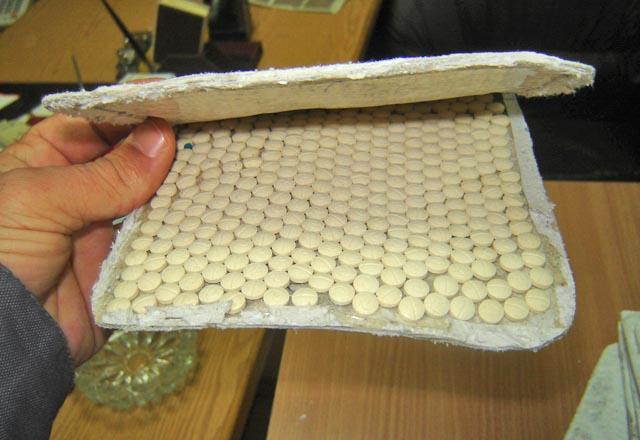 Jul 21,2014
Anti-Narcotics Department (AND) agents last week arrested six people who were allegedly attempting to smuggle one million Captagon pills to a neighbouring country, official sources said.
Nov 27,2016
AMMAN — Security agents on the Aqaba checkpoint have thwarted an attempt to smuggle 4 million Captagon pills, official sources said Sunday."
Aug 04,2016
AMMAN — The Anti-Narcotics Department (AND) on Thursday announced the arrest of 19 suspects in raids on houses and vehicles in Amman and Maf
Newsletter
Get top stories and blog posts emailed to you each day.