You are here
Amman becoming hub for art, culture and research, anthropologist says
By Saeb Rawashdeh - Nov 10,2016 - Last updated at Nov 10,2016
Many art and cultural centres have been established in neighbourhoods like Jabal Amman (File photo)
AMMAN — Despite the regional turmoil, economic crisis and the influx of refugees, Amman has become a significant hub for art, galleries and research centres, according to an anthropologist.
"I analyse the ways specific kinds of refugees — I call them' refugees with cultural capital' — and women from [the] upper class and upper-middle class are changing the cultural landscape of Amman and its cultural map," said Aseel Sawalha, an associate professor at Fordham University in New York.
In a recent lecture at the American Centre of Oriental Research, Sawalha — whose academic interests range from urban anthropology to arts, gender and critical social theory — said women are increasingly involved in many cultural venues in Jabal Amman and Jabal Luweibdeh, running galleries and cultural centres.
In the early 1990s, she said the Jordanian capital was "relatively sleepy, without Ammanis [people who would base their identity as residents of Amman] and there was a lack of cultural activities, unlike in Cairo, Beirut and Damascus".
Sawalha, who has also conducted fieldwork in Beirut, drew parallels between Beirut and Amman, concluding that the former culturally declined in the post-war period because of neoliberal policies, while the latter blossomed due to the influx of educated refugees and the indirect effect of neoliberal measures.
When the anthropologist returned to Amman in 2006, she witnessed significant changes.
"There were strings of contemporary galleries, large-scale projects related to arts and crafts, [and there was a] strong presence of women as key agents in these processes."
The Jordanian capital has received different waves of refugees — Circassians in the late 19th century, Palestinians in 1948 and 1967, Lebanese during the 1975-1990 civil war, Iraqis after 1991 and 2003, and Syrians after 2011 — the anthropologist noted.
"Until recently, art circulation in Amman was limited to a few venues," Sawalha underlined, citing the Jordan National Gallery of Fine Arts and Darat Al Funun, in addition to a few commercial galleries and three European cultural centres.
"Art galleries in Amman are clustered both in the affluent west Amman and [in the] old neighbourhoods of Jabal Amman and Jabal Luweibdeh," she emphasised.
The area around the 1st Circle in Jabal Amman was a neighbourhood where prominent families lived during the mid-20th century.
However, the district began to decline in 1970s as the city began to expand westward, the professor highlighted.
"In the early 2000s, Jabal Amman started to attract some of west Amman residents… In the smaller streets angling off of Rainbow Street, a number of Ammani homes have been renovated into cultural centres," Sawalha continued.
Nabad and Wadi Finan galleries were opened in that period as was Wild Jordan.
The 1st Circle area has since developed and undergone gentrification to attract locals, expatriates and tourists, the professor added.
The arrival of more than 2 million refugees has transformed Amman."There is a noticeable increase in the circulation of arts, crafts and other related activities," she said.
"These cultural activities are playing a major role in transforming the urban landscape of working class neighbourhoods and allowing educated upper and middle class women to occupy a major role in changing the city's cultural terrain", the anthropologist highlighted.
The prominent role these women have been playing in public events like gallery openings, running cultural cafes, and selling art pieces, "challenge dominant image of the docile, oppressed and socially marginalised Arab woman".
Related Articles
Apr 27,2016
AMMAN — The Jordan National Gallery of Fine Arts will hold an eight-day art event in the capital in May with the aim of boosting the art sce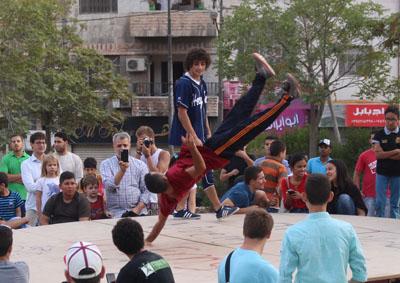 Oct 05,2015
AMMAN — Rappers, breakdancers and skateboarders gathered at 7Hills Skatepark in Amman's Jabal Luweibdeh neighbourhood on Friday for The Word
Jan 05,2019
AMMAN — The Greater Amman Municipality (GAM) is planning on renovating, yet preserving, Jabal Luweibdeh in 2019, according to a report made