You are here
Apps developed by young Arabs help spread e-learning solutions for refugees
By Camille Dupire - Jan 27,2018 - Last updated at Jan 27,2018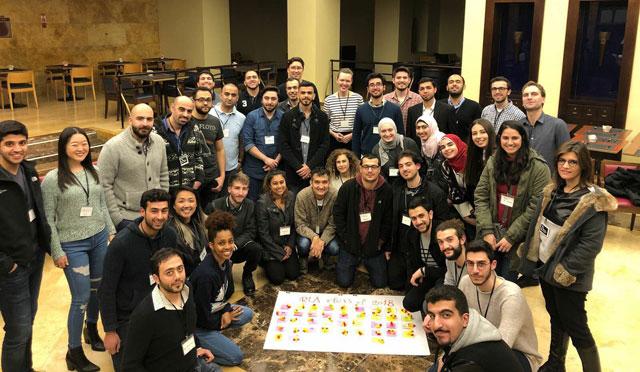 The 13 teams of Arab innovators pose for a group photo after the final pitching session in Amman on Friday (Photo by Camille Dupire)
AMMAN — A mobile app aimed at bringing together refugee children and volunteers across the globe to share bedtime stories was featured on Friday, as part of the closing event of the MIT-led Refugee Learning Accelerator (RLA).
Mike Clarke, a 28 year-old American living in Lebanon, introduced Kindi, his team's invention during the final pitching session, which saw the presentation of the 13 participating teams' projects.
"We launched the RLA as a way to get young innovative minds from the region involved in the design of learning solutions for refugees," said Genevieve Barrons, the RLA project lead, noting that "most of the projects presented here gave us great hope in the future of e-learning for groups of people who are deprived of education due to a lack of access or resources."
"We all grew up having the chance to fall asleep after listening to our parents' reading a bedtime story and these are some of the most memorable moments of a childhood," said Palestinian Leen Naffaa, the designer of the app, noting that "this is when children's imagination runs wild and reading skills improve."
Aiming to provide all children around the world with that opportunity, the four-member team created an app that pairs refugee children willing to learn and practice foreign languages with people seeking to help "in other ways than simply donating money".
Through a live video call, the young learner and his/her "buddy" are able to read a bedtime story of their choice, with an option allowing the child to rehearse some words he/she does not understand or know how to pronounce with the help of a native speaker.
"So far, we have around 100 stories available on the app, in English, Spanish and French. We also had talks with the learning platform Edraak in Jordan with plans to collaborate in uploading more stories," said Ahmad Ghizzawi and Ali Moussawi, two Lebanese team members.
The project, which has been launched as a pilot at the Kayany foundation in Lebanon, has been supported by UNHCR.
"One of the things we wanted to foster during this incubation week was the sense of community and collaboration among innovators," said Philipp Schmidt, director of Learning Innovation at the MIT Media Lab, noting that "these e-learning projects are coming from the Middle East to the Middle East, which is fundamental in enhancing community building."
For their part, Jordanians Yazan Fanous and Mohammad Tuqan developed a project aimed at detecting children's learning difficulties and disabilities through online chat.
"Although many organisations exist to help children with learning difficulties, it is very hard for refugees to reach out to those services," Fanous explained.
"We therefore developed an app that allows parents to reach out to a robotised system that will analyse their child's needs through a standardised comprehensive questionnaire, and then advise institutions that might be able to provide help for their kid," he told The Jordan Times at the event.
Stressing that the app does not provide counseling or medical diagnosis, Tuqan nonetheless pointed to the need of creating such a bridge between the refugee community and the medical and psychosocial sector to improve the delivery of education for refugee learners.
All projects were presented to representatives of MIT, local and international NGOs, as well as experts in the field of education and technology, who provided their feedback on potential loopholes and implementation challenges during the pitching session.
The judges are now assessing the viability of each of the projects and will later link the teams to NGOs working on the ground, in order to help them implement those solutions as part of their humanitarian response programmes, Barrons concluded.
up
67 users have voted, including you.
Related Articles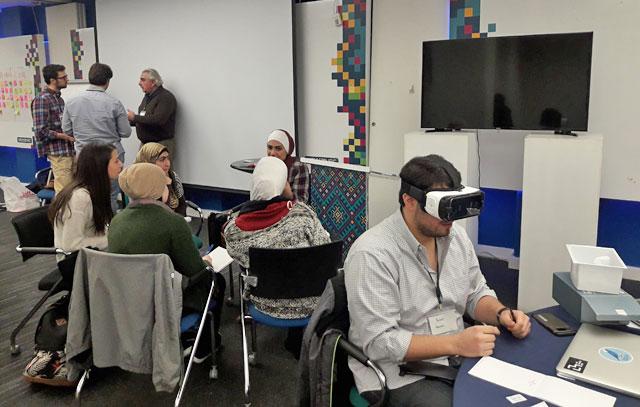 Jan 22,2018
AMMAN — Innovators from across the region on Sunday convened in Amman to take part in the Refugee Learning Accelerator (RLA), a MIT led incu
Dec 14,2017
AMMAN — Three Jordanians have concluded the first phase of the Refugee Learning Accelerator (RLA), a six-month programme aimed at helping Ar
May 06,2018
AMMAN — Applications developers, parents, youth and children came together this weekend to come up with innovative technology based solution
Newsletter
Get top stories and blog posts emailed to you each day.