You are here
Arab leaders gather for their 28th summit today
King, senior officials welcome top delegates as summit sees 'unprecedented' high-profile attendance
By Mohammad Ghazal - Mar 29,2017 - Last updated at Mar 29,2017
AMMAN — The 28th Arab summit will officially begin on Wednesday, amidst unprecedented attendance by heads of several Arab states, who will tackle a busy agenda and pressing challenges.
Arab leaders will look into several draft resolutions that were endorsed by the Arab foreign ministers this week. The Palestinian issue and the decade-long Israeli-Palestinian conflict will feature high on the summit's agenda, in addition to the situation in Syria, war on terrorism and pan-Arab cooperation, according to a copy of the draft resolutions.
Arab leaders are likely to endorse a proposition calling for increased aid for Arab countries that host Syrian refugees. The resolution considers the presence of Syrian refugees in neighbouring countries as a "temporary situation", according to the foreign ministers' suggestions.
Around seven resolutions related to the Palestinain cause are expected to be adopted at the summit, according to Minister of Foreign Affairs Ayman Safadi, all drafted during preparatory meetings that started Saturday.
Arab leaders will unite in voicing their rejection and condemnation of all attempts by Iran to interfere in the internal affairs of the Arab states, the draft resolutions stated.
Customary condemnation of the external threats faced by the Arab people, including the Israeli occupation of the Palestinian territories, the violations against Al Aqsa Mosque and Palestinian people, and the occupation of the Golan Heights, will also be reiterated during the summit, according to the draft final statement.
The heads of the Arab states will once again voice their commitment to the 2002 Arab Peace Initiative, which offers Israel normal ties with the Arab world, in return for a total withdrawal from territories it occupied in 1967, the statement added.
They will also voice support for, and appreciation of, Jordan's role in protecting the holy sites in Jerusalem, while stressing the Palestinians' right to statehood.
Regarding terrorism, the Arab leaders will stress on the need for holistic and solid strategies to counter the threat in the region and the world.
The leaders will voice their support for the legitimate government in Yemen and voice their support to all efforts exerted to preserve the unity and stability of the country.
As Jordan hosts the Arab summit for the fourth time, His Majesty King Abdullah, president of the 2017 session, started meetings with world and regional officials (see separate stories).
King Abdullah received Qatari Emir Sheikh Tamim Bin Hamad Al Thani, Palestinian President Mahmoud Abbas, Egyptian President Abdel Fattah Al Sisi, UAE Deputy President and Dubai Ruler Sheikh Mohammad Bin Rashed Al Maktoum, and Iraqi Prime Minister Haider Al Abadi according to a Royal Court statement.
His Majesty also received Yemeni President Abed Rabbo Mansour Hadi, Chairman of the Presidential Council of Libya Fayez Sarraj, Lebanese President Michel Aoun, Djibouti President Ismail Omar Guelleh and Mauritanian President Mohamed Ould Abdel Aziz,
The monarch later welcomed Tunisian President Beji Caid Essebsi, Kuwaiti Emir Sabah Al Ahmad Al Jaber Al Sabah and Sudanese President Omar Al Bashir.
For his part, Omani Prince Sayyid Asa'ad Bin Tariq Bin Taimur Al Said, deputy prime minister for international relations affairs and special representative of Sultan of Oman Qaboos Bin Said was received on Tuesday by HRH Prince Hashem, chief chamberlain.
The Algerian delegation arrived in Queen Alia International Airport, headed by National Assembly Speaker Abdulqader Bin Saleh. Prime Minister Hani Mulki, Arab League Secretary General Ahmed Aboul Gheit, Planning and International Cooperation Minister Imad Fakhoury, Minister of State for Media Affairs and Government Spokesperson Mohammad Momani, Kingdom's Permanent Representative at the Arab League Ali Ayed, Jordanian Ambassador to Oman Zuheir Ensour and Omani ambassador to Jordan were at the airport to welcome the Omani and Algerian delegations.
Somali President Mohamed Abdullahi Mohamed Farmajo also arrived for the summit and was received by Deputy Prime Minister Mamdouh Abbadi.
up
36 users have voted, including you.
Related Articles
Jan 12,2017
AMMAN — Mauritanian President Mohamed Ould Abdel Aziz on Wednesday in Nouakchott received Minister of State for Investment Affairs Jawad Ana
Jan 07,2017
AMMAN — Deputy Prime Minister and Foreign Minister Nasser Judeh on Friday delivered an invitation from His Majesty King Abdullah to Moroccan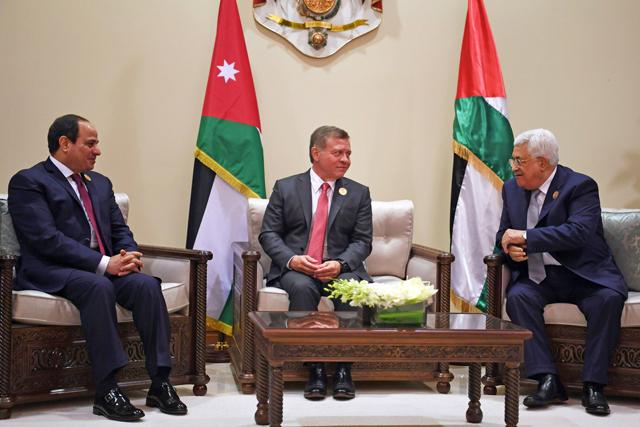 Mar 30,2017
AMMAN — His Majesty King Abdullah held a trilateral meeting with Egyptian President Abdel Fattah Al Sisi and Palestinian President Mahmoud A
Newsletter
Get top stories and blog posts emailed to you each day.