You are here
Around 200,000 cars enter Jordan in June, July
By Omar Obeidat - Aug 19,2015 - Last updated at Aug 19,2015
AMMAN – A total of 195,226 cars entered Jordan from Saudi Arabia in June and July of this year, according to the Jordan Customs Department (JCD).
The figures, compiled by JCD upon a request by The Jordan Times, showed that in June a total of 82,768 cars entered the Kingdom from the Omari and Mudawarah border crossings, while 112,458 autos crossed into the Kingdom in July.
An official from the customs department, who preferred to remain unnamed, said that thousands of cars entered Jordan from the Gulf Kingdom in August but final figures will not be available before the end of the month.
The vehicles that entered the Kingdom in June and July, according to the official, were carrying around 1 million people, coming from various Gulf states such as Saudi Arabia, the United Arab Emirates, Qatar, Bahrain and Kuwait.
The number of cars that departed in June and July was 78,306, according to JCD figures.
The majority of auto passengers were Jordanian expats in the Gulf region, the JCD officer said.
Official figures estimate the number of Jordanian professional working abroad at around 750,000, over 300,000 of whom are based in Saudi Arabia, followed by the United Arab Emirates with nearly 200,000.
In Amman, city officials and residents blame severe traffic congestion to the large number of cars that entered the capital this summer.
On social media, residents express their annoyance over long queues of cars on Amman streets daily.
Commenting on a remark by traffic officials that traffic jams will start to abate in mid-August when visitors start to return to the Gulf, Firas Alrawashdih said that he believed expats and tourists would stay in Jordan forever.
"I believe they liked it over here. They may reside for a long period," he commented on Facebook.
Walid Kayed wrote on his Facebook page that authorities should not allow thousands of cars to enter the country as streets cannot accommodate a large increase in the number of autos.
Ahmad Obeid said this summer "was a nightmare in terms of traffic jams", Obeid added.
Official figures put the number of cars in Jordan, registered at the Driver and Vehicle Licensing Department, at over 1.3 million, nearly 38 per cent of which are in the capital.
Related Articles
Mar 14,2016
AMMAN — The Greater Amman Municipality (GAM) has started implementing what officials describe as "traffic solutions" to curb gridlocks in th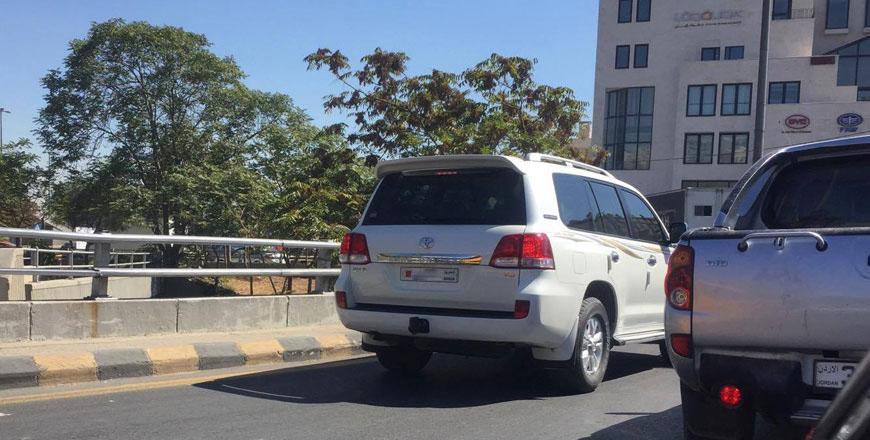 Sep 29,2016
AMMAN — Over 100,000 cars entered the Kingdom from Gulf countries this summer, according to figures from the Jordan Customs Department (JCD)
Jul 14,2016
AMMAN — Some 24,000 vehicles entered Jordan from Saudi Arabia so far in July, bringing families from Gulf Arab countries for summer vacation
Newsletter
Get top stories and blog posts emailed to you each day.