You are here
Flooding results in road closures, complaints and rescues on Thursday
JMD says scattered showers expected for Friday
By JT - Feb 28,2019 - Last updated at Feb 28,2019
The Roman Theatre in Amman can be seen in this photo taken on Thursday after heavy rainfall flooded parts of the city (Photo by Osama Aqarbeh)
AMMAN — Heavy rainfall led to flooding, rescues, fears of dams overflowing and complaints from businesses on Thursday as scattered showers are expected to hang around going into the weekend.
The Greater Amman Municipality (GAM) on Thursday said that the "unprecedented" rainfall had led to soil erosion in the capital's Jabal Al Joufeh area and manhole closures on Quraish Street in downtown Amman.
In a statement, carried by the Jordan News Agency, Petra, the GAM said that various machinery and personnel were working to address the situation, adding that it was following up on calls received by its emergency rooms.
President of the Foodstuff Traders Association Khalil Haj Tawfiq said downtown Amman businesses incurred losses allegedly estimated at millions of dinars as a result of their shops flooding, an absence of customers and the return of cheques.
Haj Tawfiq, who is also chairman of the Amman Chamber of Commerce, said he held the GAM accountable for what was happening in downtown Amman and other malls, which closed their doors due flooding, Al Rai reported.
He added that the GAM first issued warnings a week ago, yet the flooding reflected the municipality's "lack of seriousness" in dealing with the conditions.
Meanwhile, the Public Security Department (PSD) said that the following areas were closed by 1pm due to high water levels: Misdar traffic light to downtown Amman, Dead Sea to Zara, Wadi Al Ghafr Street in Irbid, Wadi Al Qamar Street in Ruseifa and Jerash's Burma Street.
The PSD added that the Panorama Street's section near the Dead Sea was closed due to landslides, according to Petra. To inquire about road conditions, people can call the unified emergency number: 911.
Civil Defence Department (CDD) divers rescued a mother and three children after rainwater flooded their building in Ein Al Basha, according to CDD Spokesperson Maj. Iyad Amr.
Amr added that CDD personnel administered first aid to the family and transferred them to the Prince Hussein Hospital, where they were listed in fair condition, Petra reported.
The CDD said that by 4pm on Thursday it had dealt with around 2,000 accidents related to houses flooding and vehicles being swept away.
CDD divers rescued three people after their vehicle was carried away by floods in the Southern Shouneh area and dropped inside the Wadi Shuib Dam. The rescued people were in fair condition, Petra reported.
Also on Thursday, Gendarmerie personnel evacuated a woman and her daughter, who were stranded in a car in Amman's Bnayat neighbourhood after water levels rose around the vehicle, according to Petra.
The gendarmes also evacuated the residents of two houses in Khreibet Al Souq after rainwater flooded their homes.
Acting prime minister Rajai Muasher announced a day off for all ministries and public departments on Thursday afternoon due to the prevailing weather conditions, the Jordan News Agency, Petra, reported.
The Ministry of Water and Irrigation said that the Shueib Dam had reached its full capacity of 1.7 million cubic metres.
Theeban District Mayor Fahed Husban added that joint PSD and CDD patrols were stationed along the course of the Waleh and Hidan valleys due to the possibility of the Waleh Dam overflowing.
He said that the patrols were tasked with warning citizens against the dangers of approaching the area, noting that the district saw no injuries and no street closures during the heavy rainfall on Thursday, according to Petra.
Cold and rainy weather is expected to persist today with a chance of scattered showers in the western parts of the Kingdom and moderate to brisk northerly winds, the Jordan Meteorological Department (JMD) said on Thursday.
Weather conditions should continue to be cold and cloudy with a chance of showers in the northern, central and eastern regions of the Kingdom with moderate to brisk westerly winds, according to the JMD.
Related Articles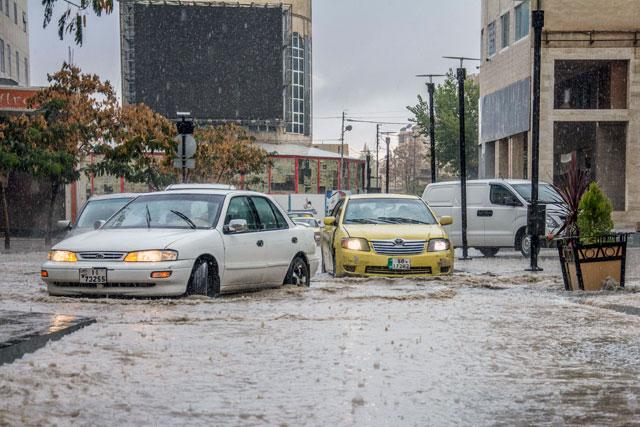 Nov 03,2014
At least three people died on Monday as a result of flooding caused by heavy rain which inflicted damage on public and private property.
Nov 09,2018
AMMAN— At least four people were killed and dozens were injured on Friday after floods ripped several areas of the Kingd
Nov 05,2015
AMMAN — Four people, including two children, died on Thursday as heavy rainfall set off flash floods and wreaked havoc in the capital.In Amm