You are here
Three die as flash floods sweep central, northern regions
By Hana Namrouqa - Nov 03,2014 - Last updated at Nov 03,2014
AMMAN — At least three people died on Monday as a result of flooding caused by heavy rain which inflicted damage on public and private property.
Within almost an hour at noon time Monday, the heavy rainfall in west Amman flooded streets and tunnels which required hours of work by Greater Amman Municipality (GAM) teams to clear, causing traffic jams that lasted till after sunset.
Deputy Director of GAM's Public Works Department Yasser Atiyyat said the municipality rushed its teams to pump out water flooding streets and tunnels and remove the mud, stones and bricks that blocked the capital's arteries.
Atiyyat said in a press statement that everything went back to normal within two hours after the rain stopped in most parts of Amman.
GAM's road department director Ahmad Khreisat said that the tunnels at the Fifth and Seventh Circles took more time to clear as a power outage prevented workers from operating pumps in the case of the former, while too much sand and construction material was blocking the sewage network in the Seventh Circle.
Marina Shawish, a 27-year-old employee at a private company near the Seventh Circle, said the street next to her workplace was flooded with muddy rainwater.
"Just a few minutes after the heavy rain started, a river of mud formed on the street outside my company's building. All parked cars, including mine, were in the middle of the water," Shawish said.
Khreisat also said the numerous construction sites in the capital were a major reason behind the flooding, citing the shrinking empty space in the city that would usually absorb the rainfall. He added that GAM is working on improving the water and sewage networks to cope with heavy rainfall, urging citizens to call the emergency teams at 5359971 and 5359970 in case of problems.
Fatalities
Flash floods swept through a neighbourhood in Al Mashare area in Irbid, according to the Civil Defence Department (CDD), which said that a 47-year-old woman was standing in front of her house when she was swept away by the rushing water.
"The flood carried the woman more than three kilometres to an area near the King Abdullah Canal. The CDD transported the woman to hospital, where she was pronounced dead on arrival," a source at the CDD press office told The Jordan Times.
Floods in Irbid caused landslides that blocked roads, said Ammar Obeidat, a resident of the northern city.
"The rain started on Monday around 6:30am. It was a heavy downpour. Water levels rose in low-lying areas, and olive and forest trees were uprooted due to floods," Obeidat told The Jordan Times over the phone.
In Amman's Wadi Saqra area, two men died after being electrocuted in a flooded building.
"The two men — a 60-year-old Jordanian and a 25-year-old Egyptian guest worker — were in the basement of a company trying to fix a submersible water pump to flush out rainwater," the source said, adding that the CDD administered first aid to the victims and transported them to the King Hussein Medical Centre and to a private hospital near Wadi Saqra, where both were pronounced dead.
Rescue workers also transported the guest worker's traumatised brother to hospital.
In addition, CDD teams rescued four people living in a tent after they were stranded by floods, as well as five people whose house was inundated with rainwater in Irbid.
"CDD personnel are pumping out rainwater from dozens of houses in several Amman areas where water levels in the streets rose," the source noted.
The department issued a statement later in the day calling on people to avoid low-lying areas and valleys where floods could form and also called on farmers to avoid picking olives during the current weather conditions to avoid any risks involved.
Forecast
According to the Jordan Meteorological Department, the heavy rainfall was caused by a depression accompanied by a wet air mass. The impact of the depression is expected to ease off starting Tuesday, the department said.
On Wednesday, the weather will be partly cloudy and relatively cold as mercury will remain below their annual average of 23oC during this time of the year, with temperatures reaching a maximum of 19oC and dropping to a minimum of 9oC.
A slight rise in temperatures is expected on Thursday, but the weather will remain relatively cool and winds will be easterly to southeasterly moderate.
Daytime temperatures in the capital will reach a high of 20oC and drop to a low of 8oC at night.
Related Articles
Nov 05,2015
AMMAN — Amman Deputy Mayor Yousef Shawarbeh on Thursday said the hilly topography of the capital leads to flash floods in "exceptional" weat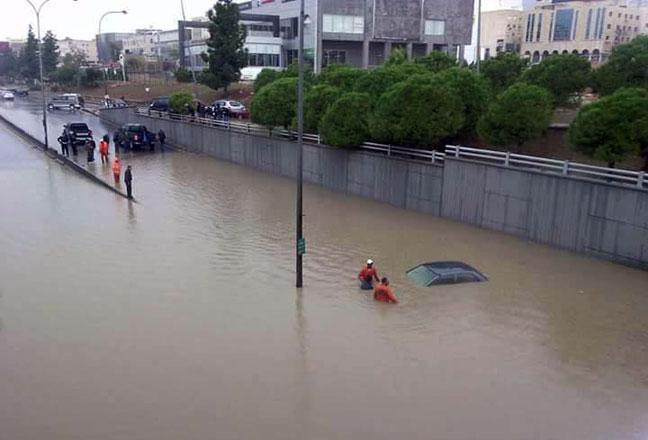 Nov 05,2015
AMMAN — Four people, including two children, died on Thursday as heavy rainfall set off flash floods and wreaked havoc in the capital.In Amm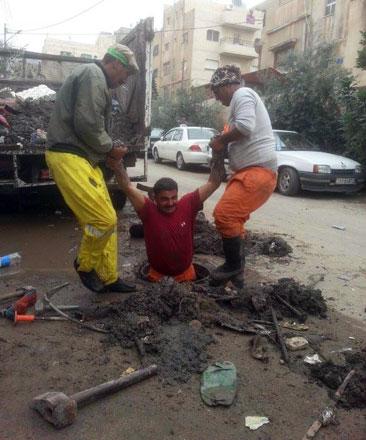 Jan 25,2016
AMMAN — The Greater Amman Municipality (GAM) said on Monday it has water pumps at the ready at four tunnels in Amman to prevent flooding and
Newsletter
Get top stories and blog posts emailed to you each day.