You are here
Four dead as heavy downpour wreaks havoc on Amman
By Merza Noghai , Petra - Nov 05,2015 - Last updated at Nov 06,2015
Local authorities try to salvage a vehicle submerged in the deluge in Amman on Thursday (Al Rai photo)
AMMAN — Four people, including two children, died on Thursday as heavy rainfall set off flash floods and wreaked havoc in the capital.
In Amman's Arjan area, the 12-year-old and six-year-old sons of an Egyptian janitor drowned in their basement apartment, the Civil Defence Department (CDD) said.
Floodwater inundated the Egyptian family's flat after the fortifying wall of three adjacent buildings in the neighbourhood collapsed, the CDD said in a statement sent to The Jordan Times.
CDD divers retrieved the bodies of the children.
Interior Minister Salameh Hammad and senior officials were present during the rescue attempt.
A 23-year-old man died in Nuzha area, east Amman, after floods swept his house, according to the CDD.
In the Rabiah neighbourhood, central Amman, an Egyptian man was electrocuted to death after rainwater flooded the building where he was staying, a CDD statement said.
The heavy rain flooded several streets and buildings in the capital and closed a number of tunnels, particularly in west Amman neighbourhoods.
In downtown Amman, the floods damaged the commodities and assets of over 500 shops and warehouses, with the losses estimated at around JD5 million.
Floodwater also inundated some buildings at the University of Jordan, disrupting classes, while several other universities cancelled classes and postponed exams for safety reasons.
Amman residents took to social media to criticise authorities' lack of preparedness and the capital's weak infrastructure for the damages incurred due to the heavy downpour, which lasted around 45 minutes.
Unstable weather conditions are forecast to continue affecting the Kingdom until Saturday, the Jordan Meteorological Department said.
The CDD said its personnel and vehicles in Amman, Balqa and Zarqa governorates dealt with 400 operations to pump water out from shops and ground floor and basement apartments, and rescued some 750 people who were trapped in their vehicles as a result of high water levels, especially in tunnels.
The Central Traffic Department said it dealt with 180 accidents in Amman, while around 1,000 vehicles broke down on the capital's roads, the Jordan News Agency, Petra, reported.
The department towed 250 vehicles to clear some roads, while traffic police officers transported eight pregnant women to hospitals, where they gave birth.
The head of the Greater Amman Municipality's (GAM) media department, Mazen Farajin, told The Jordan Times on Thursday night that all tunnels and roads were open in the capital.
Earlier in the day, GAM personnel had to pump water out from all tunnels in Amman, with the 7th Circle and Haramein Intersection tunnels reopening in the afternoon.
The Social Development Ministry moved around 20 families from their houses in Amman to its affiliated associations after floods swept their residences and made it difficult for them to stay there.
Social Development Minister Reem Abu Hassan visited the father of the two children who drowned, and checked on the conditions of families whose houses were flooded in the capital's Arjan, Nuzha and 7th Circle areas.
The Public Security Department's (PSD) Command and Control Centre received around 24,600 calls until 1pm on Thursday reporting cases of stranded people and road accidents, in addition to complaints about power cuts and vehicle breakdowns in tunnels and on roads, according to Petra.
CDD and Zarqa's Berin Municipality vehicles rescued families who were trapped in eight cars on the area's main street which turned into a "big river", Berin Mayor Hani Khalaileh told Petra.
The road was cleared later in the day despite the heavy rainfall by digging side canals which reduced the high water level on the street.
CDD, PSD and Zarqa Municipality personnel also evacuated 1,000 employees from companies, factories and a centre for the deaf and mute in the governorate's Awajan neighbourhood.
Highway patrols said all inter-governorate highways were open, assuring citizens that there were no obstacles hindering movement on these roads.
The Energy and Mineral Resources Commission (EMRC) registered 419 power failures across the Kingdom due to the prevailing weather conditions, 295 of which were addressed and work was under way to handle other outages, according to Petra.
The maximum load on the electricity grid stood at 2,250 megawatts of the total capacity of 4,000MW, EMRC Chief Commissioner Farouq Hiari told Petra.
Royal Jordanian (RJ) flights on Thursday operated according to schedule.
"All RJ flights are arriving and departing as scheduled without any delays or diversions," RJ Spokesperson Basel Kilani said, adding that visibility was good for aviation.
Kilani also noted that the seven incoming flights to Jordan on Tuesday which were diverted to alternative airports due to the severe dust, landed in the Kingdom at around 8pm on the same day.
Jordan Aviation also said there were no changes to flight schedules from and to the Kingdom, Petra, reported.
Mohammad Ghazal, Dana Al Emam and Suzanna Goussous contributed to this report
Related Articles
Jan 23,2016
AMMAN – The Civil Defence Department (CDD) has formed mobile teams to reach people in need more quickly during the cold polar front, which i
Jan 07,2017
AMMAN — One man died in the capital on Saturday after a rock fell on him at a quarry in the capital's Ring Road area, the Civil Defence Depa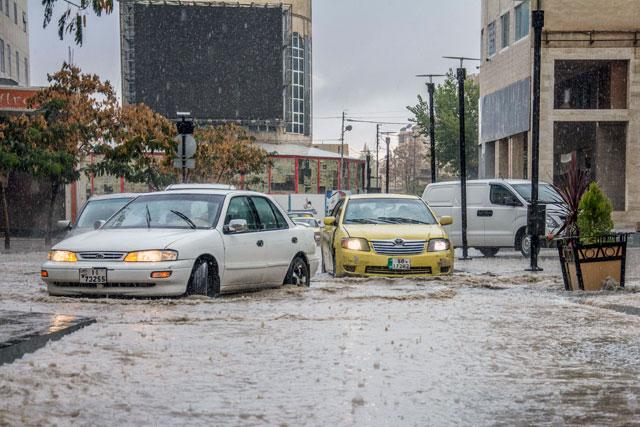 Nov 03,2014
At least three people died on Monday as a result of flooding caused by heavy rain which inflicted damage on public and private property.
Newsletter
Get top stories and blog posts emailed to you each day.