You are here
Football teaches 'girls to challenge status-quo early in life' — woman player
30 women footballers, including 2 Jordanians, to play 'The Beautiful Game' at highest point in Africa
By Saeb Rawashdeh - Mar 13,2017 - Last updated at Mar 13,2017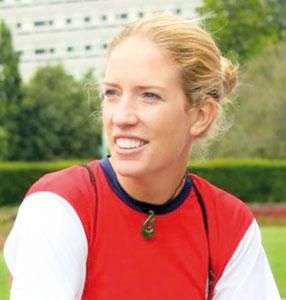 AMMAN — For Erin Blankenship, love of football and respect for equality go hand -in-hand, especially when it comes to women in sport.
In 2016, she combined these two passions, and, along with co-founder Laura Youngson and a group of active and former female football players, launched the Equal Playing Field (EPF) initiative, which has grown to have representatives in 15 countries worldwide.
On June 17th this year, EPF plans to gather 30 female footballers to play a football match at the summit of Mount Kilimanjaro, which will break the world record for highest-elevation game ever played (5,895 metres).
Besides challenging gender inequality in sports, EPF aims to showcase positive female role models, especially in countries where women's participation in sport remains a taboo, and to encourage social acceptance as athletes through football.
One of the first players who joined the initiative was Zahra Mahmoodi from Afghanistan, former-captain of the Afghan women's national team and a FIFA-licensed coach. She founded the under-14 girls' national team and is currently a Sports Ambassador for Right to Play, an international sports development organisation.
The next player to sign up was a former professional footballer from Argentina, who uses football in urban youth outreach programmes to help children stay in school.
Blankenship, who has a graduate degree in War Studies and has studied several languages, grew up practicing a number of sports beside football- from competitive swimming and horse-riding, to Olympic modern pentathlon, cross-country running and lacrosse.
"I've been playing football since I was about four years old," she remembered, saying that "I was lucky to grow up in a family that loved sport and encouraged all of us to play and pursue it to the best of our abilities and interest."
Blankenship's varied experiences led to her current challenge of assembling a team for the upcoming game on Mount Kilimanjaro. Among the 30 players will be two Jordanian women, Yasmeen Shabsough and Haneen Khateeb, whom EPF recruited to play in the world-record breaking match.
When the final whistle blows on Africa's highest point, however, the work won't stop. Afterwards, they are planning to return to Jordan to support football training clinics for female refugees and Jordanian girls and women from local communities.
For Shabsough, it is important that girls learn to challenge the status-quo early on in life.
"I started my football journey from a young age, playing with my male cousins within the family. I was raised in a family with only boys; they all played football and I decided to be part of the action and refused to stay as a spectator. Two years later, I was approached by the national team coach who selected me for the team. Since then, I have never stopped playing football," Shabsough recalled.
According to Blankenship, the refugee question in Jordan is extraordinarily difficult, especially for young women, "as they are inevitably caught up in the broader political context of the refugee question, be they from Palestine, Syria or Iraq".
"Like women everywhere, I think they are struggling against cultural and structural norms that limit their opportunities across the board — in education, jobs and clearly sports, if that is something they want to pursue; the inherent challenges to refugee status further compound these problems, creating greater inequalities to overcome and often fewer chances to try," she told The Jordan Times recently.
EPF hopes to use its world-record game to draw people's attention to gender inequality in sport, while especially promoting football development for women around the world, Blankenship said.
She stressed that the clinics they plan to launch in Jordan will focus on "supporting existing organisations, particularly NGOs and football teams, which are already working on these goals for girls and adult women", while also sharing "EPF's values of opportunity, equality and respect."
"In Jordan, we are looking for organisations that we can support through our global platform, hopefully advancing their own good work….we welcome the opportunity to cooperate with any association or government body that supports our vision for EPF," Blankenship underlined.
For her, football is the universal language, in which one can communicate and bond with total strangers over a team, a player, a brilliant match.
"At an individual level, I love that football builds leadership, self-respect, teamwork, discipline, community and an understanding of merit-based advancement," Blankenship said.
"One learns the value of hard work, how to win and how to lose, sportsmanship, how to rely on yourself to overcome challenges," she explained.
"It is also a blast to play. More fun than I can accurately put into words, but I think it is something that everyone who has ever loved a sport understands," Blankenship concluded.
Related Articles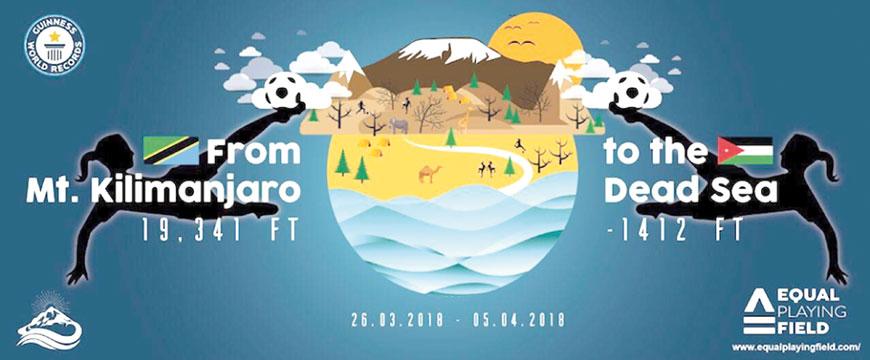 Mar 26,2018
AMMAN — The women football match to be held at the Dead Sea next month will "send a message to change society's perceptions about wome
Jun 15,2017
AMMAN — Two Jordanian female football enthusiasts will take their passion to a new level, moving from the football pitches of Jordan to the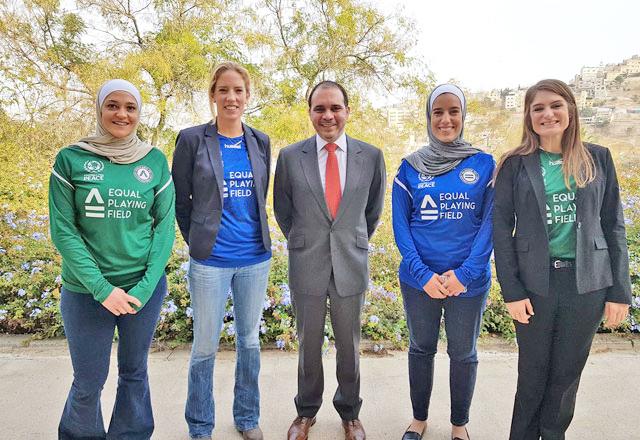 Dec 08,2017
AMMAN — With the aim of promoting the upcoming AFC Women's Asian Cup (WAC) scheduled to be held in Amman between April 4 and 20, 2018, a glo
Newsletter
Get top stories and blog posts emailed to you each day.