You are here
'Historic' women football match to kick off at lowest point on earth in April
By Muath Freij - Dec 08,2017 - Last updated at Dec 08,2017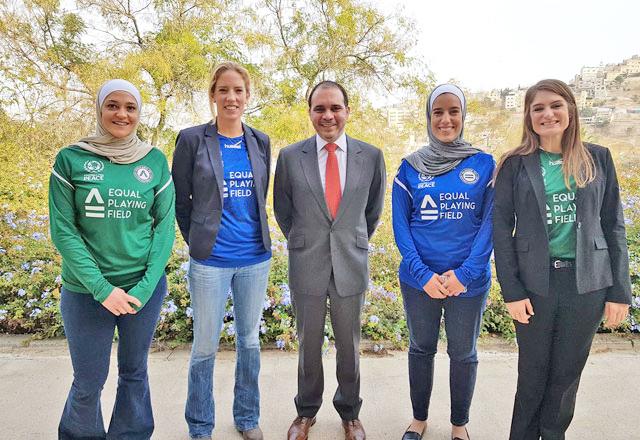 HRH Prince Ali poses for a group photo with memebers of the Equal Playing Field team in Jordan recently (Photo courtesy of Prince Ali Facebook page)
AMMAN — With the aim of promoting the upcoming AFC Women's Asian Cup (WAC) scheduled to be held in Amman between April 4 and 20, 2018, a global initiative will launch a number of women football campaigns in the Kingdom next month.
The Equal Playing Field (EPF) initiative designed the project to promote the AFC competition and get more women and local communities involved in the field, said Erin Blankenship, the co-founder of EPF.
"We wanted to find a way to help promote women football in Jordan and showcase Jordan as a leader of women's sports in Asia," she told The Jordan Times in a recent interview.
Along with co-founder Laura Youngson and a group of active and former female football players, Blankenship launched the EPF initiative, which has grown to count representatives in 15 countries worldwide.
Besides challenging gender inequality in sports, EPF also aims to feature positive female role models, especially in countries where women's participation in sport remains a taboo, and to encourage social acceptance as athletes through football.
EPF will run some football camps in the countries which will be sending teams to the tournament in Jordan, targeting specific communities to raise awareness of the competition.
"We also wanted to tell more about Jordan and invite one or two women from each country including players, coaches, referees and managers to do a 12-day tour around the Kingdom where they will play exhibition games," Blankenship noted.
The final stage of the project will be the organisation of a women football match at the Dead Sea, the lowest point on earth located over 400 metres below sea level, which will be the first of its kind in the world.
"We will make our second world record for the year by organising games in the highest and lowest points on earth. HRH Prince Ali is planning to build a new field for the community which will be available for all after the big launching game," she noted.
EPF gathered a number of female footballers for a match at the summit of Mount Kilimanjaro in June, breaking the world record for highest-elevation game ever played, at 5,895 metres of altitude.
"There will be FIFA referees and it will be a professional standard match in Jordan. It will be the game played in the lowest point in history anywhere but if you can break expectations, break the norm that's the lesson," she added.
Haneen Khateeb, who will be among the Jordanian female footballers who will participate in this project, said their initial idea was to play the match at the Dead Sea beach of but the Prince suggested constructing a football field there to benefit the local community.
Khateeb said that, with Jordan hosting a number of leading women competitions, it has become a "magnet" for football tournaments, which will have a positive impact on the local social and sports scenes.
Related Articles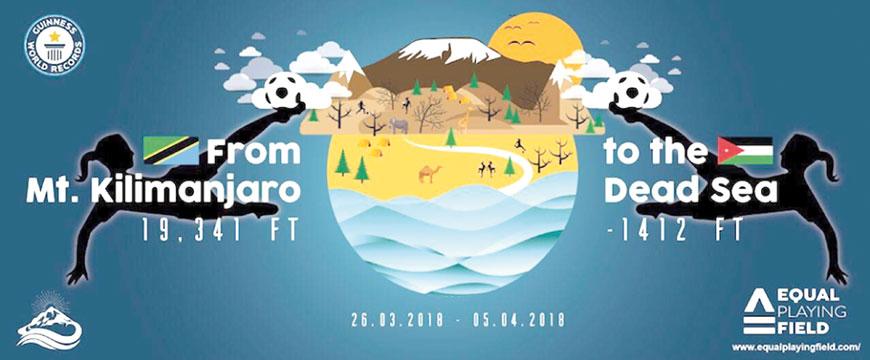 Mar 26,2018
AMMAN — The women football match to be held at the Dead Sea next month will "send a message to change society's perceptions about wome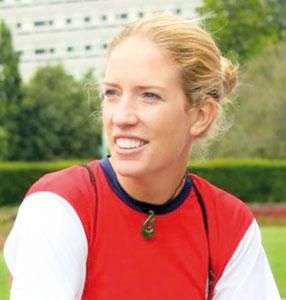 Mar 13,2017
AMMAN — For Erin Blankenship, love of football and respect for equality go hand -in-hand, especially when it comes to women in sport. I
Apr 05,2018
Female players participate in a friendly women football match at the Dead Sea, the lowest point on earth located over 400 metres below sea l
Newsletter
Get top stories and blog posts emailed to you each day.