You are here
Housing developers stop strike after gov't promises by-law suspension
By Mohammad Ghazal - Apr 26,2018 - Last updated at Apr 26,2018
Workers are seen at a construction site in Amman (Photo by Osama Aqarbeh)
AMMAN — Housing developers have suspended a week-long work strike started earlier this week to protest the recently endorsed building by-law, after a meeting with the government resulted in the suspension of the law.
"We had an excellent meeting with the Minister of Public Works and Housing Sami Halasa, who promised that all our demands will be discussed," President of the Jordan Housing Developers Association Zuhair Omari told The Jordan Times.
A dialogue will start immediately between the housing developers, the Greater Amman Municipality and officials under the umbrella of the ministry, Omari said, noting that the government pledged to reconsider the bylaw, bringing relief to all construction companies.
"We will hold a series of meetings with concerned authorities in the near future, to deliver our reservations and recommendations about the bylaw and to discuss other challenges facing the sector and affecting our businesses, which have been in decline over the past few years due to low demand," he added.
Last Sunday, about 95 per cent of the country's 3,400 housing companies halted their construction activities while dozens of others cancelled their orders to purchase steel, cement and other construction materials.
Recently published in the Official Gazette, the by-law stipulates that housing apartments must be at least 110 sq.m in categories B, C and D, and 130 sq.m if classified in A zones which, according to housing developers, would limit buyers' options.
Under the by-law, housing developers cannot build small apartments anymore, although the demand in the market is on apartments that are smaller than 120 sq.m, according to Omari, who said that the bulk of the demand is for apartments of 90 and 80 sq.m.
According to the association, 32 per cent of Jordanians who bought apartments in 2017 chose ones that were smaller than 120 sq.m.
Trading in the real estate sector declined by 7 per cent in the first quarter of 2018 to JD1.399 billion compared with JD1.505 billion during the same period last year.
The sector, which employs tens of thousands of Jordanians, has been witnessing slow business since 2015. The total value of apartments that have been built since 2015 to date and have not been sold yet is estimated at JD1 billion, according to the sector leader.
Related Articles
Apr 22,2018
AMMAN — Housing developers on Sunday started a week-long work strike in protest of the recently endorsed building by-law, scheduled to go in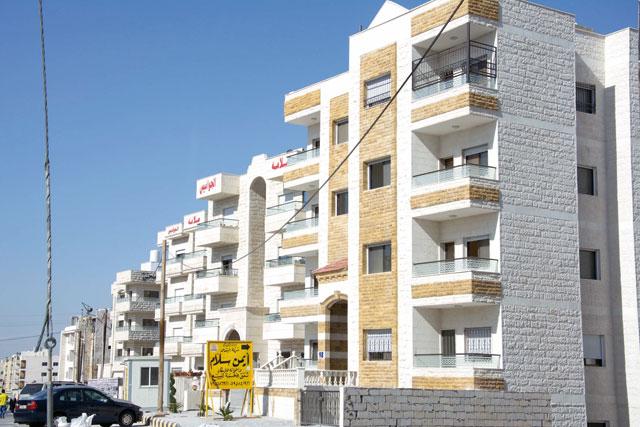 Apr 02,2018
AMMAN — Housing developers will hold a week-long work strike to be followed by a sit-in to protest the recently endorsed building by-law, wh
May 24,2018
AMMAN — None of the country's housing developers has had a single licence issued to start a new building since the building bylaw went into
Newsletter
Get top stories and blog posts emailed to you each day.