You are here
Unsold apartments since 2015 valued at JD1b
Housing developers plan week-long strike to protest building by-law
By Mohammad Ghazal - Apr 02,2018 - Last updated at Apr 02,2018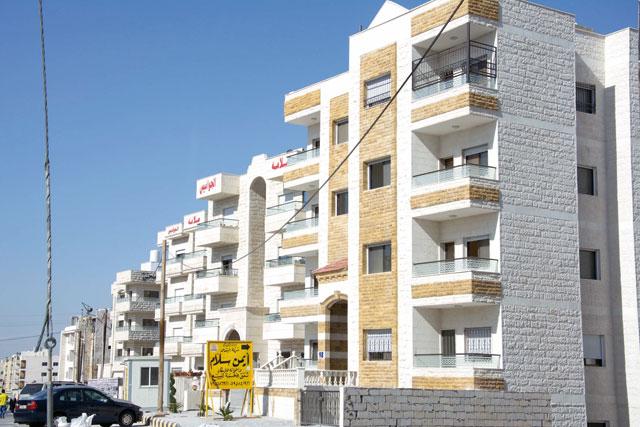 The housing development sector has been witnessing slow business for the past three years (Photo by Amjad Ghsoun)
AMMAN — Housing developers will hold a week-long work strike to be followed by a sit-in to protest the recently endorsed building by-law, which they said would lead to further decline in trading in the sector.
On April 22, the country's 3,400 housing companies will stop their construction activities for a week in protest to the by-law, which will go into effect on May 1, Zuhair Omari, president of the Jordan Housing Developers Association (JHDA), told The Jordan Times on Monday.
The sector, which employs tens of thousands of Jordanians, has been witnessing a decline in demand since 2015.
The total value of apartments that were built since 2015 to date and have not been sold yet is estimated at JD1 billion, he said.
Trading last year reached around JD6 billion, which constitutes a 14-per cent drop from 2016.
"This is a huge figure. The majority of these unsold apartments were built in 2015 and 2016 and they still have not been sold… the by-law will just worsen the situation," Omari added Monday.
The by-law, which was recently published in the Official Gazette, stipulates that housing apartments must be at least 110 sq.m in classifications B, C and D, and 130 sq.m in classification A, which, according to housing developers, would limit buyers' options.
Under the by-law, housing developers cannot build small apartments anymore although the demand in the market is on apartments that are smaller than 120 sq.m, according to Omari.
According to the association's figures, 32 per cent of Jordanians who bought apartments in 2017 chose ones that are smaller than 120 square metres.
The majority of the market's demand is for apartments of 90 and 80sq.m, according to the association.
On May 2, housing developers will hold a protest near the headquarters of the Greater Amman Municipality (GAM) in downtown with the participation of representatives of all other affiliated sectors that are negatively affected by the decision, he said.
"The association's member firms have also decided to stop proceeding with any transactions at GAM as of April 22 in protest… we had regularly warned against endorsing the by-law but to no avail," Omari added.
Officials at GAM were not available for comment despite repeated attempts over the past few days by The Jordan Times.
Sami Sabri, a civil engineer at one of the housing companies that is building some apartment buildings in Amman's Tabarbour area, said the by-law does not take into account that the prices of land soared over the past years, especially in Amman.
"Many buyers come and ask for the cheaper small-size apartments as it would be more affordable to them and easier in terms of securing a loan," the engineer said on Monday.
Abu Mustafa, an owner of a store Al Muqabalein that provides construction companies with metal fences, said work has been declining over the past two years.
"Business is not like before and some developers do not pay in cash as they used to… the situation is alarming," Abu Mustafa told The Jordan Times Monday.
Related Articles
Apr 22,2018
AMMAN — Housing developers on Sunday started a week-long work strike in protest of the recently endorsed building by-law, scheduled to go in
Apr 26,2018
AMMAN — Housing developers have suspended a week-long work strike started earlier this week to protest the recently endorsed building by-law
Mar 18,2018
AMMAN — Housing developers on Sunday said they will resort to escalatory measures to protest against the 2018 building by-law.Zuhair Omari,
Newsletter
Get top stories and blog posts emailed to you each day.