You are here
Humanitarian forum highlights 'cultural relief' for trauma victims
By Muath Freij - Oct 05,2015 - Last updated at Oct 05,2015
AMMAN – HRH Princess Rym Ali said on Sunday that while students are often told in school that culture is what remains when one has forgotten everything, she believed that culture is what remains when one has lost everything.
In her remarks during the opening of a two-day forum titled "Forum on Culture and Humanitarian Relief", Princess Rym described culture as "an integral part of humanitarian relief efforts".
"Despite the difficulties experienced by victims of violence, culture is a source of strength, reminding even the dispossessed that they are human beings," she told participants.
Experts on trauma and psychological relief for the victims of violence, staff and volunteers of humanitarian relief organisations as well as cultural practitioners from both Jordan and the region, are taking part in the forum, held by Goethe Institut in Amman.
"We in Jordan have done what we can, giving our limited resources to welcome communities escaping violence or trauma for decades. Support for basic needs for creative expression and sharing stories has been missing from traditional humanitarian efforts very often due to the urgency of the situation," Princess Rym added.
She noted that hope remains alive for an end to the conflicts in the region, enabling many refugees to rebuild their lives back home.
"But even if the wars and the fighting and the destruction were to end right now, it would take decades for people to resettle. It is the duty of everyone to rally and find ways of helping victims of violence to live with dignity. This can be carried out simply by giving hope to children at the refugee camps, by showing them films as the Royal Film Commission has been doing, by letting them paint and organise plays as others have done. We all believe in the power of culture," she added.
Günther Hasenkamp, director of Goethe Institute in Amman, said culture has a direct relationship with what happens in society.
"The question will come up sooner or later: How does culture relate to a situation in crisis?" he said in remarks to The Jordan Times on the sidelines of the forum.
Hasenkamp noted that there are many groups with interesting ongoing projects and that the initial idea was to ask them to come to Amman and present these initiatives.
"We are hearing the term 'cultural relief' more often now; it is a term that was not often used in the past. However, the term needs some kind of definition. We need to develop a deeper understanding of how cultural relief and cultural development relate to each other," he added.
Royston Maldoom, a choreographer who has been leading international dance projects for 30 years, including with children and young people, presented to the audience a number of his projects, which involved the participation of many people facing abject conditions in their homes, affected by poverty or who are refugees.
Maldoom, whose projects incorporate "everyone regardless of talent and experience", told The Jordan Times that although some people might wonder what would happen next after their children participate in cultural activities, "what I found in Palestine was that parents were excited about the projects because their children would go back home and talk to them. The children are happy and they have friends; we see that the activities create a real change in them."
up
23 users have voted, including you.
Related Articles
Oct 23,2014
Low salaries, a lack of transport services and the culture of shame are to blame for unemployment among Jordanians in the industrial sector, business owners said this week.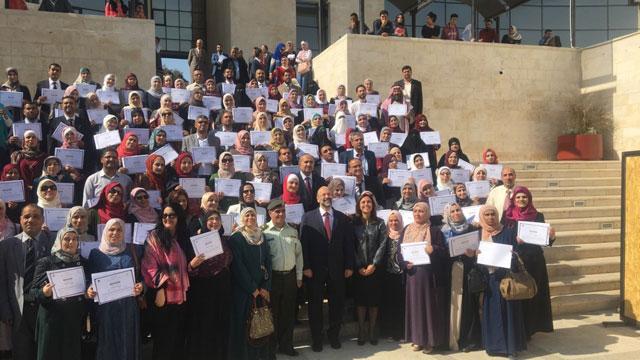 Oct 28,2017
AMMAN — The Ministry of Education will adopt the criteria of The Queen Rania Award for Excellence in Education (QRAEE) in the currently deve
Feb 04,2015
Seeking to clean up scandal-scarred FIFA would seem a comparatively straightforward mission for HRH Prince Ali compared with one of his current roles in Jordan.
Newsletter
Get top stories and blog posts emailed to you each day.