You are here
Industrialists expect Iraq border to reopen this week
By Omar Obeidat - Aug 29,2015 - Last updated at Aug 29,2015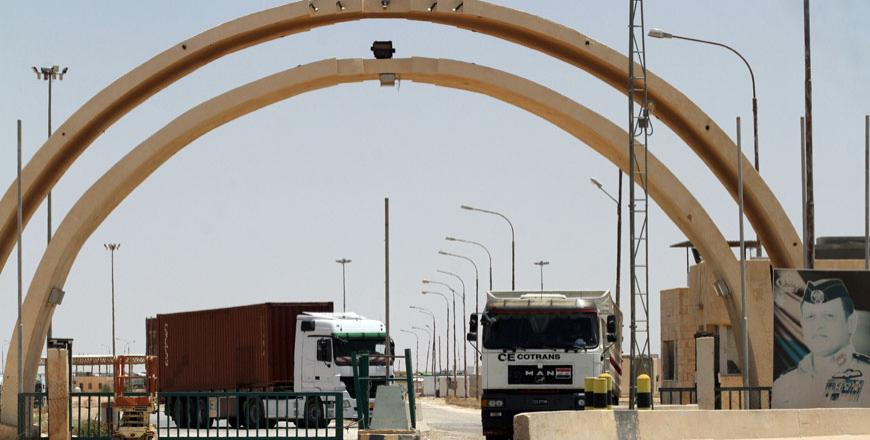 The Turaibil/Karameh crossing connecting Jordan and Iraq has been closed since mid-July when Iraqi authorities closed it until further notice due to security issues and ongoing fighting with extremists in the Anbar province (File photo)
AMMAN – Jordanian industrialists expect a decision to be taken by Iraqi authorities this week to open the border crossing with the Kingdom, Jordan Chamber of Industry (JCI) President Ayman Hatahet said Saturday.
The Turaibil/Karameh crossing has been closed since mid-July under a decision by the Iraqi authorities until further notice due to security reasons and ongoing fighting with extremists in the Anbar province.
"Internal measures by the Iraqi government to open the border are expected this week," Hatahet told The Jordan Times over the phone.
Commenting on the issue, Minister of State for Media Affairs and Communications and Government Spokesperson Mohammad Momani said in remarks to The Jordan Times that the move was yet to be confirmed by the Iraqi side.
"We hope so, but there is no confirmation yet," he said.
The JCI president described Iraq as Jordan's largest market as around 20 per cent of the nearly JD6 billion overall volume of exports goes to the eastern neighbour.
Since the closure, he said, Jordanian exports to Iraq have come to a complete halt, except for limited goods that have a long life span, noting that some industrialists ship their products through Kuwait, which is a costly alternative for the majority of Jordanian exporters.
"Opening the border with Iraq is the only workable solution for Jordanian exports to recover," Hatahet said, adding that due to instability in Syria and Iraq, industrial exports have retracted by 10 to 15 per cent in recent years.
He indicated that several industries were established in Jordan just for the Iraqi market such as food processing, detergents and wood.
"Such factories, dozens of which are based in Jordan, have been idle for a while," the sector top representative said.
Not only is the industrial sector suffering because of instability in Iraq and Syria.
The two neighbours were major importers of the Kingdom's fruits and vegetables; in addition, they have served as transit corridors to key markets such as Turkey, Lebanon and East Europe.
up
34 users have voted, including you.
Related Articles
Oct 18,2015
AMMAN – The Turaibil/Karameh border crossing between Jordan and Iraq is expected to reopen for both cargo and passengers in the near future,
Dec 09,2015
AMMAN – The border closure between Jordan and Iraq has caused Jordanian manufacturers losses estimated at hundreds of millions, according to
Mar 29,2015
Local products can reach Nigeria, Ethiopia, Kenya, Tanzania, Djibouti, Uganda and South Africa for having "excellent" markets, especially due to the availability of regular maritime routes and high level of security, Jordan Chamber of Industry (JCI) President Ayman Hatahet said Sunday. 
Newsletter
Get top stories and blog posts emailed to you each day.