You are here
King attends honouring ceremony on occasion of Prophet's birthday
By JT - Nov 20,2018 - Last updated at Nov 20,2018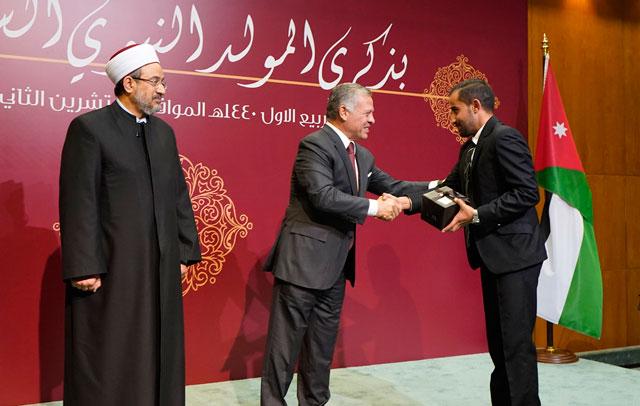 His Majesty King Abdullah honours citizens for their contributions to society during a ceremony held by the Ministry of Awqaf and Islamic Affairs on Tuesday (Photo courtesy of Royal Court)
AMMAN — His Majesty King Abdullah on Tuesday attended a ceremony held by the Ministry of Awqaf and Islamic Affairs to mark Prophet Mohammad's birthday, according to a Royal Court statement.
Awqaf Minister Abdul Nasser Abul Bassal delivered a speech on the occasion, in which he said that Prophet Mohammad's message has completed the messages of previous prophets and messengers, in a way that laid the foundation for a base of religious harmony and co-existence.
During the ceremony, His Majesty honoured donors who contributed to supporting the educational waqfs (endowments) and orphan care, as well as a number of citizens who showed a sense of responsibility and loyalty by returning money they found to their owners.
King Abdullah honoured Senator Muhammad Ghanimeh who donated for building the Ahmad Ghanimeh School in Ain Al Basha as an educational waqf. The school was built on a five-dunum plot of land and has 747 students in the first three grades.
The King honoured Yassin Husban who also donated for building the Mohammad Husban School in Mafraq. The school was inaugurated in September and has 155 students in the first five grades.
On charity and orphan care, His Majesty honoured Samiha Tarawneh who works as an alternative mother at Al Hussein Social Foundation for Orphans. Tarawneh is one of the longest-serving members at the foundation and has devoted her life for caring for orphaned children.
King Abdullah also honoured Omar Momani, a taxi driver, for returning JD25,000 to a Kuwaiti visitor, and honoured Ahmad Maytah, a student at the Mutah University, for returning a bag that contained JD7,000 and belonged to a Philippine woman.
Poet Haydar Mahmoud recited a poem that highlighted the values of the occasion.
Their Royal Highnesses Prince Feisal and Prince Hashem attended the ceremony along with senior officials, high ranking officers, representatives of Arab and Islamic diplomatic missions to the Kingdom and Islamic and Christian figures.
On the occasion, His Majesty has received cables from a number of Arab and Muslim leaders.
In the cables, the leaders expressed their well wishes to King Abdullah and the people of Jordan, according to a Royal Court statement.
His Majesty also received cables from senior officials and army officers, heads of security agencies and civil society representatives.
HRH Crown Prince Hussein received similar cables from senior officials and officers.
In the cables, the senders highlighted the importance of the occasion, noting that Prophet Mohammad, peace and blessings be upon him, embodied the principles of peace, justice, brotherhood, equality, tolerance and love.
They also praised the King's efforts in defending Islam and its holy sites, affirming their pride in the Hashemites, the descendants of Prophet Mohammad.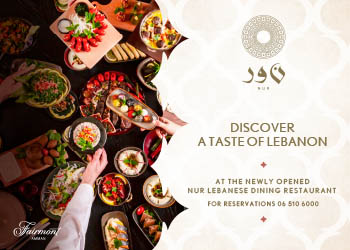 Newsletter
Get top stories and blog posts emailed to you each day.