You are here
Map outlines public transport routes in Amman
By Omar Obeidat - Mar 07,2016 - Last updated at Mar 07,2016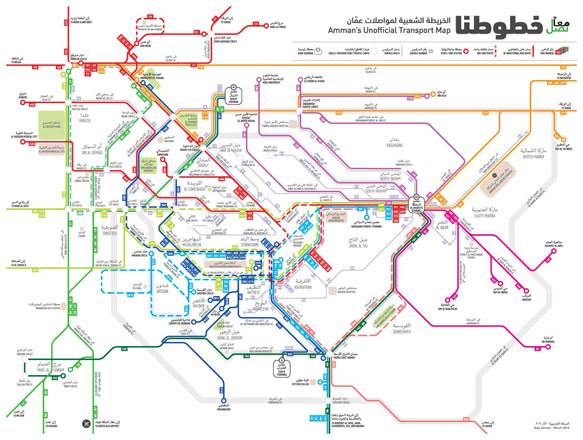 AMMAN — A group of volunteers on Monday launched Amman's unofficial transport map that seeks to make travelling in the city's public transportation system easier for residents and visitors.
The map was launched by Maan Nasel (Together We Reach), which is a national advocacy group calling for better organised and safer public transportation in the capital.
In a statement e-mailed to The Jordan Times, Maan Nasel said the map is the first of its kind in Jordan, as it shows most of the routes used by large and small buses and some service taxi routes in Amman and the suburbs, adding that the citizen-led initiative enables commuters to plan their trips efficiently.
Hazem Zureiqat, founding member of Maan Nasel, said the main aim of the map was to highlight the need to offer residents accurate and easy to use information on transport routes in Amman, noting that the challenges facing commuters were the main motive to prepare the map.
The statement said a group of volunteers, students and commuters, used public transportation for six months from May 2015 to November 2015 to track its routes and stations and documented them via Google Maps.
Hana Belbeisi, another founding member of the project, said that volunteers talked to bus drivers and discovered that they were unaware of all routes, while passengers who talked to the volunteers said they needed such a map to help plan their trips.
The map is available on Maan Nasel website (http://maannasel.net/map) and as an app downloadable for Android and iOS, in addition to print versions.
The Maan Nasel website described the map as a readable, user-friendly format that would facilitate and encourage its use by residents and visitors.
On details of how to use it, the website said the map shows the public transport network in the city of Amman and some of its suburbs.
It covers a total of 76 large buses, small buses and service taxi routes, but does not reflect the actual distances between various points in the city.
The colour coding is based on the general direction of each group of routes. It is used to track routes across the map, the website said.
The letter B refers to large buses, C for coaster buses or small buses and S for service taxis.
As public transportation in the capital has often been criticised as inadequate, the map project was welcomed by many social media users.
"Thank you for your great efforts. Would it be available in bookstores?" asked Tuqa Akef Albdour on Facebook.
Waseem Al Alwan commented on Facebook that the Greater Amman Municipality should follow suit by issuing a map for tourist sites in the capital.
Ayah Alfawaris wrote that local community is doing the job the government has failed to do.
The Maan Nasel team describes the projects as a "map by people for the people", as hundreds of thousands of Amman residents use public transportation to go to work, university, hospital or to the market.
up
88 users have voted, including you.
Related Articles
Apr 22,2015
Maan Nasel (Arriving Together), an activist-based movement which seeks a safe and sustainable transport system in the Kingdom, on Wednesday launched a website that enables public transport users to evaluate bus routes.
Apr 25,2017
AMMAN — The Maan Nasel advocacy group on Monday launched a mobile application that maps out routes for users of public transport in Amman.Th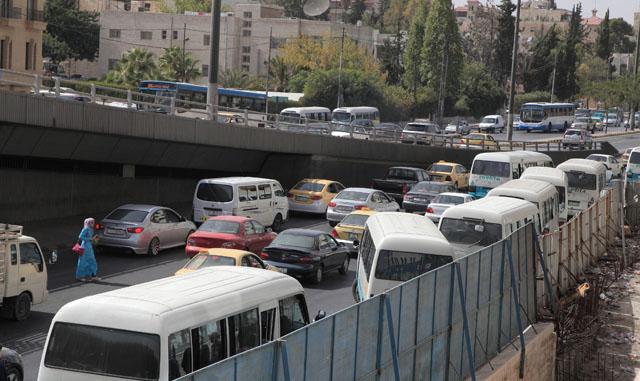 Sep 24,2014
Activists are collecting signatures from the public for a petition demanding that the Greater Amman Municipality (GAM) introduce a reliable, environment-friendly and sustainable public transportation system.
Newsletter
Get top stories and blog posts emailed to you each day.