You are here
Public transport users invited to evaluate bus routes online
By Hana Namrouqa , Bahaa Al Deen Al Nawas - Apr 22,2015 - Last updated at Apr 22,2015
AMMAN — Maan Nasel (Arriving Together), an activist-based movement which seeks a safe and sustainable transport system in the Kingdom, on Wednesday launched a website that enables public transport users to evaluate bus routes.
The evaluation, which includes the accuracy, number of bus stops and the duration of the trip, seeks to communicate the opinion of public transport users to decision makers in order to improve services, according to Hana Bilbeisi, an environment activist and one of the initiative's organisers.
Maan Nasel also started collecting signatures from the public for a petition demanding the introduction of a safe, clean, fair and reliable public transportation system, Bilbeisi said.
The petition highlights seven demands that authorities need to address, including an immediate improvement of public transport services, raising state budget allocations for the sector and drafting a law that guarantees people a safe and regulated public transport system.
The petition also urges the government to improve transport services for students, make buses more accessible for people with disabilities and adopt an environment-friendly transport system.
"The petition will be submitted to the prime minister in a couple of months, while results of the evaluation of bus routes will be discussed with the Greater Amman Municipality," Bilbeisi told The Jordan Times.
According to Maan Nasel, the current drawbacks of public transport services in Jordan include irregular and limited frequency, lack of reliability and limited geographic coverage.
The initiative launched a petition last September urging the government to introduce special lanes for buses, regulate bus stops and route schedules, distribute a map of bus routes, introduce a fair and modern ticketing and payment system, as well as improve the cleanliness and safety of buses.
The petition criticised the state's low prioritisation of city planning and sustainable development, claiming that consecutive governments have prioritised construction of roads, bridges and intersections instead of improving the public transport system inside and outside municipalities.
Bilbeisi noted that people can evaluate bus routes and sign the petition on www.maannasel.net.
A study issued last year by the USAID-funded Youth for the Future Programme, which is implemented by the International Youth Foundation, indicated that inadequate public transportation is one of the major challenges impeding the employment of young job seekers, particularly females.
Transportation problems affect the decision of the majority of young Jordanians on whether or not to accept a job, especially females, due to social considerations, the study indicated.
Commuter Dalia Obeidat, who lives in Tabarbour and takes a bus to and from the University of Jordan (UJ) on a daily basis, told The Jordan Times that the scarcity of buses is a major problem for her.
"I have to wait for a long time to get into a bus, especially during the rush hour at around 2pm, when there are so many people waiting but very few buses or none at all."
Obeidat also complained about random route changes, citing incidents where bus drivers heading from UJ to Zarqa decide to terminate the route in Tabarbour instead in order to pick up a different set of passengers and collect more money, which leads to commuters fighting to get onto any bus heading to Zarqa since so few end up going there.
She also complained of the "imbalance in the distribution of buses" on each route, saying that Sweileh buses are available everywhere all the time, but very few Zarqa buses can be found.
For Tariq Badawi, who also takes the bus from Zarqa to UJ, disorganised commuters are more of a problem than the lack of buses.
He noted that if they queue properly and wait their turn to take the bus, they will not be late for their appointments.
"I just wish people would wait their turn and stand in queue instead of scrambling to get onto the bus."
Badawi said fare collectors on public buses are "unneeded", as they are always "rude".
Razan Abu Rouza, a commuter who takes Sweileh buses regularly, said drivers pick up too many passengers leading to overcrowding, with people squashed together and several standing in the aisle.
Commuters are sometimes charged JD0.65 or sometimes JD0.70 although the legally set fare is JD0.59, according to Abu Rouza.
Related Articles
Sep 24,2014
Activists are collecting signatures from the public for a petition demanding that the Greater Amman Municipality (GAM) introduce a reliable, environment-friendly and sustainable public transportation system.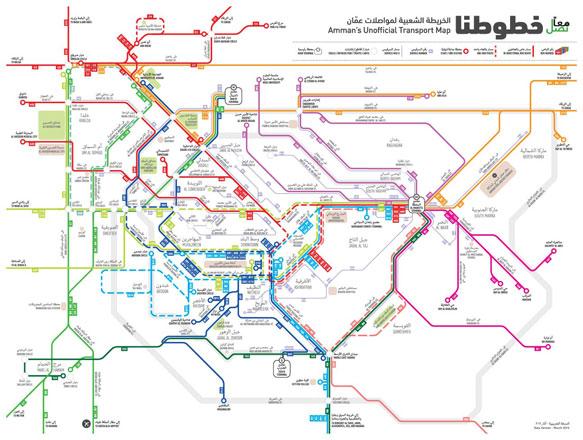 Mar 07,2016
AMMAN — A group of volunteers on Monday launched Amman's unofficial transport map that seeks to make travelling in the city's public transpo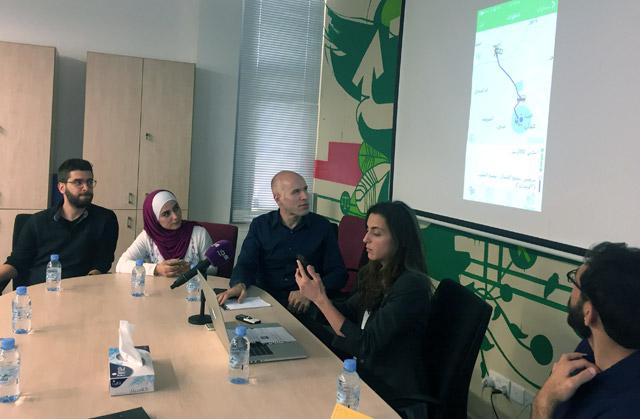 Apr 25,2017
AMMAN — The Maan Nasel advocacy group on Monday launched a mobile application that maps out routes for users of public transport in Amman.Th
Newsletter
Get top stories and blog posts emailed to you each day.