You are here
New JAF unit to join Jordan-led int'l military exercise
By Muath Freij - May 05,2015 - Last updated at May 05,2015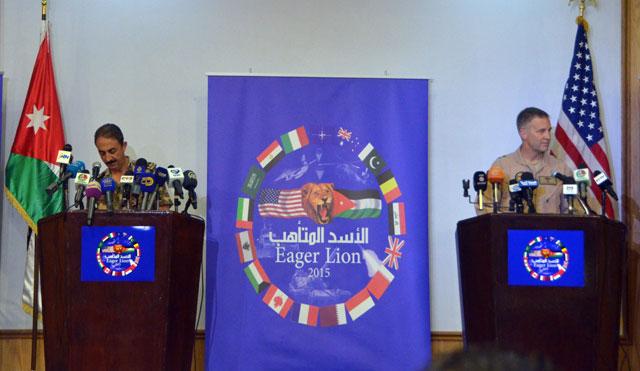 AMMAN – A newly formed Jordanian force dubbed "Rapid Response Unit" will take part for the first time in this year's Eager Lion Drill, which will be held in Jordan for the fifth year, the Jordan Armed Forces-Arab Army (JAF) has announced.
The unit will join 10,000 troops representing 18 countries participating in the exercises, which will run from May 5-19, JAF's Director of Doctrine and Joint Training Brigadier General Fahed Al Damen said on Tuesday.
According to the officer, Eager Lion will be mainly conducted by land, sea and air forces, representing Kuwait, Bahrain, Qatar, KSA, Egypt, the UAE, Lebanon, Iraq, the UK, France, Italy, Pakistan, the US, Canada, Belgium, Poland and Australia in addition to Jordan and representatives of NATO.
He told reporters that that there is increasing interest this year in the military drill "because of what it represents, being a meeting ground for all military commanders at all strategic, operational and tactical levels".
The event is also vital due to the rising extremism worldwide, Damen said.
"The region and the world are experiencing a rise of extremist groups that are far away from the humanitarian values and that are committing horrible crimes targeting believers from all religions, a threat which requires joint cooperation and exchange of expertise in order to fight all aspects and forms of terrorism," Damen added.
He said that the preparations for the event started at the end of 2014, adding that no exercises will be held at the Jordanian-Syrian border.
He stressed that JAF has qualified Border Guard units that are highly equipped and trained to control and guard the borders of the Kingdom against any infiltrations, smuggling, or any other type of aggression that would endanger the security of Jordan.
US Major General Rick B Mattson said the exercise provides the US with the opportunity to develop relationships and capabilities.
"Mission sets include border, inter-ministerial command and control, cyberdefence and battle space management. Eager Lion will exercise a wide variety of air, land and sea assets integrating full spectrum operations into a combined arms exercise," he told reporters.
The exercises will be led by JAF, according to Mattson, who is in charge of exercises and training at the US Central Command.
up
25 users have voted, including you.
Related Articles
May 15,2016
AMMAN — The "Eager Lion 2016" began on May 15 and concludes on May 24, as announced in a press conference held Sunday at the Joint Special O
Oct 21,2014
Chairman of the Joint Chief-of-Staff Gen. Mashal Al Zaben on Tuesday met with Maj. Gen. Rick Mattson, the director of the US Central Command's exercises and training division.
Apr 26,2018
AMMAN – The "Eager Lion" drills 2018 concluded on Thursday with a tactical attacking exercise that was carried out by elected units of the J
Newsletter
Get top stories and blog posts emailed to you each day.