You are here
'Numerous economic benefits expected as Netflix chooses to film its first Arabic series in Jordan'
By Muath Freij - Mar 13,2018 - Last updated at Mar 13,2018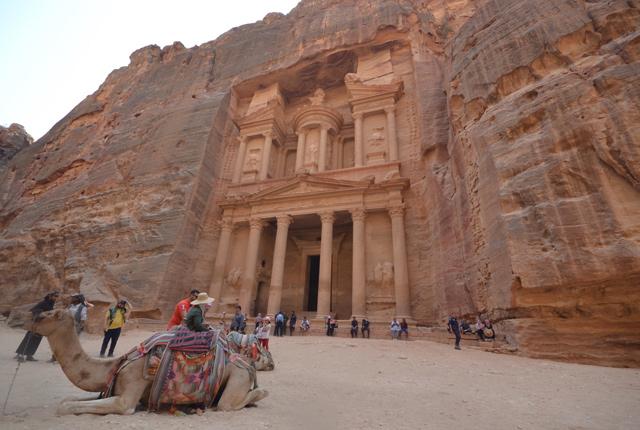 The tourist site of Petra has been discussed as one of the potential filming locations for the upcoming series Jinn (Photo by Muath Freij)
AMMAN — Netflix's upcoming first Arabic original series, which will be filmed primarily in Jordan, is expected to further highlight the beautiful scenery of the Kingdom and showcase the large pool of talents present in the country, a Royal Film Commission (RFC) official said.
The world's leading Internet entertainment service has announced its first Arabic series titled "Jinn", which will be filmed in Jordan later this year, featuring a number of Middle Eastern actors, according to Netflix's official website.
Produced by Elan and Rajeev Dassani (SEAM), the young adult fantasy adventure comes from on-the-rise Lebanese director Mir-Jean Bou Chaaya (Very Big Shot) and Jordanian screenwriter Bassel Ghandour (Oscar-nominated Theeb).
The six-episode series is expected to be available to all Netflix members around the world as of 2019, the website stated.
"This is very important not only for the region but primarily for Jordan because, if this show gains success on Netflix, more shows will be produced in Arabic. We hope they will keep being produced here in Jordan, as it generates a lot of money for the country and, more importantly, creates job opportunities for Jordanians employed in these shows," RFC General Manager George David told The Jordan Times at RFC premises on Wednesday.
David explained that the two American producers Elan and Rajive had already produced and directed a short film "SEAM", which included Jordanian actors and crews in Wadi Rum.
"The movie grabbed the attention of Netflix: they saw it and were really impressed so they contacted the brothers and told them that they were looking to go to the region to start a series in Arabic. The brothers immediately contacted us as they were eager to work in Jordan again, especially on this project," he recalled, adding "we have been in talks with Netflix for the past two to three years."
A contemporary supernatural teenage drama, Jinn will tell the story of a group of Arab teenagers whose lives are disrupted when a Jinn in the form of a teenage boy appears to them in the ancient city of Petra, according to Netflix's website.
"We are really excited about this. It is very common in the Middle East for people to know someone who has a Jinn story, so it's nice to turn this into a fun and mysterious teen adventure that everyone can enjoy, Ghandour was quoted by Netflix as saying.
"I love that Netflix is investing a lot in the region, it's a real turning point. We have such a rich storytelling culture, and we'll finally be able to enjoy Arabic content with Netflix quality," the screenwriter continued.
The RFC has worked on facilitating the acquiring of permits and connecting Netflix with the relevant local contacts.
"They asked us for a list of filmmakers, not only in Jordan, but also from all over the Arab region. We helped them reach out to directors and writers and they held some interviews at the RFC. We are very proud to say there will be two Jordanian writers involved," David said.
He added that the RFC is now holding talks with a couple of other producers planning to film their English shows in Jordan. "Perhaps, by the end of the year, we will have up to four Netflix shows filming in Jordan," the RFC official said.
Positive economic impact
While several renowned movies have been shot either mainly or partly in Jordan, the idea of having a full TV series filmed in the Kingdom will have a positive impact on the country, according to David.
"For a television series it is different, because it is broadcast for a longer time, so the crew stays on much longer. With a film, it takes an average of 45 days while it can go up to four or five months for a series," he added.
This will contribute to creating jobs and generate even more economic benefits, he explained, saying "when a TV show becomes successful, a second season follows which means shooting another 10 to 12 episodes. If that happens with Jinn, this would be very important," David said.
No accurate number of work opportunities generated by the show is available so far but the director estimates that "a good number of opportunities will be available following Jinn".
"A feature film employs between 60 to 200 people [and] a television show is usually around the same; so it could be the same but for a longer period of time," he noted.
Shooting locations for Jinn are not yet fully known, but the directors are planning to highlight tourist attractions, according to David. "They looked at Petra and Wadi Rum and the idea of Petra kept coming up," he recalled.
The RFC official said this might encourage more local youth to join in the film industry. "That's one of our big challenges but it is getting better and more parents and people in society are accepting it. They are seeing that it is a career and film is an industry that has an economic potential," he concluded.
Related Articles
Aug 13,2018
AMMAN — Netflix, the world's leading Internet entertainment service, has announced that its first Arabic original series began shooting in A
Jun 16,2019
AMMAN — The Amman prosecutor's office on Saturday said it launched an investigation into a series which started airing on Netflix and caused
Sep 21,2016
AMMAN — The Royal Film Commission (RFC) is hosting a forum from Thursday to Sunday on the cinema and television industry at its headquarters