You are here
Queen checks on 'Novice Teacher Training' programme
By JT - Apr 19,2016 - Last updated at Apr 19,2016
Her Majesty Queen Rania visits Al Khansaa Secondary School for Girls in Sweileh, Amman, on Tuesday (Photo courtesy of Royal Court)
AMMAN — Her Majesty Queen Rania on Tuesday visited Al Khansaa Secondary School for Girls in Amman and attended part of Queen Rania Teacher Academy's (QRTA) Novice Teacher Training (NTT).
The programme is being implemented at the school by the Ministry of Education and is designed by QRTA in partnership with Global Affairs Canada, according to a statement from Her Majesty's office.
Queen Rania met with QRTA CEO Haif Banayyan, who explained that the training is offered to new teachers with three or less years of experience and aims to develop their skills in seven different fields. These range from classroom management and interactive teaching, to technology implementation in teaching, assessment techniques and psychological awareness, according to Banayyan.
The NTT programme has been designed to reach 4,360 newly hired teachers over the course of five years, and has so far succeeded in training 815 teachers.
Accompanied by Banayyan and School Principal Muna Khasawneh, Queen Rania met with past beneficiaries at the school's computer lab where a focus group was taking place.
The discussion tackled common concerns that teachers share, and explored reasons behind choosing careers in education. The teachers also spoke about the challenges they face as new instructors, and how QRTA and ministry programmes have helped them overcome these difficulties.
The teachers explained to Queen Rania that advanced training approaches have helped them transfer the skills they acquired through training programmes into their classrooms.
At the end of her visit, the Queen stopped by a workshop on teacher learning styles at the school library. Her Majesty attended part of the workshop, and spoke with instructors and supervisors about the programme's effectiveness in helping teachers-in-training succeed in their careers.
The training is one of the multiple QRTA programmes developed in partnership with Global Affairs Canada, the department in the Canadian government that manages Canada's diplomatic and consular relations.
The teachers are trained in general classroom management skills over a period of 10 days, followed by a more specific training in the subjects of mathematics, science, social studies, Arabic and English for five days.
Established in 2009 as a public school, Al Khansaa Secondary School for Girls currently has 710 students and 48 teachers and administrative staff.
Related Articles
Aug 16,2017
AMMAN — The Queen Rania Teacher Academy (QRTA) has partnered with the University of Bath to launch a pilot programme aimed at improving the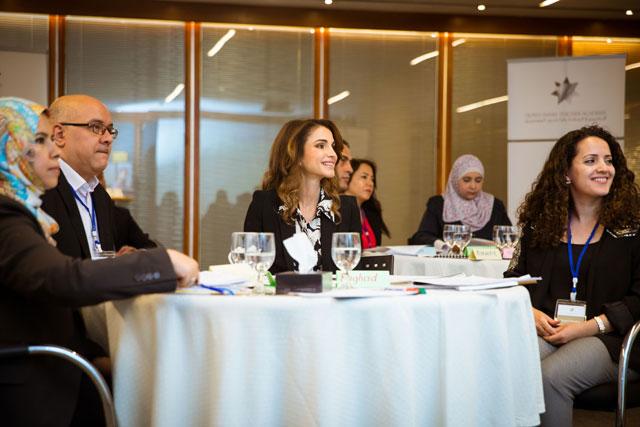 May 30,2016
AMMAN — Her Majesty Queen Rania on Sunday was briefed on preparations currently under way to launch the Queen Rania Teachers Academy's (QRTA
Nov 10,2014
Her Majesty Queen Rania on Monday joined the Queen Rania Teacher Academy (QRTA) team to celebrate the 5th anniversary of the facility's establishment.