You are here
Queen checks on preparations for Amman Design Week
By JT - Aug 10,2016 - Last updated at Aug 10,2016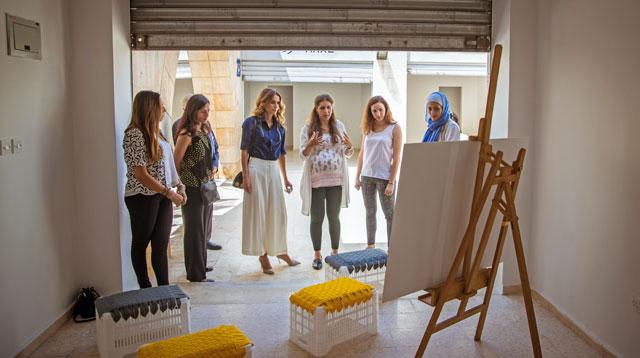 Her Majesty Queen Rania visits the Crafts District at the Raghadan Tourist Terminal on Wednesday (Photo courtesy of Royal Court)
AMMAN – Her Majesty Queen Rania checked on preparations under way for Amman Design Week (ADW) in downtown Amman on Monday and met with local designers.
With three weeks to go until ADW, the largest design event in Jordan's history, the Queen visited the Crafts District at the Raghadan Tourist Terminal, one of three sites hosting exhibitions and activities in the nine-day event.
Amman Mayor Aqel Biltaji, ADW co-directors Rana Beiruti and Abeer Seikaly gave the Queen a tour of an exhibit, according to a statement from Her Majesty's office.
The Queen met with designer and curator Dina Haddadin, and her colleagues Khaled Ali and Norma Qubti.
Her Majesty also walked through the tourist terminal, stopping at the preliminary set-up of the Wild Jordan pop-up shop, and the jewellery and accessories shops, the statement said.
She met with designer Diana Rayyan, who explained her use of recycled materials to create the installed canopies.
The Queen continued to the Cultural Plaza, where designer Liyan Jabi showcased Zawayed, an initiative which has empowered women and youth in local and marginalised societies to discover their creative potential.
Finally, Queen Rania met with graphic designer Hussein Al Azaat, who leads Wajha, a social initiative that aims to help the community by providing design services for free, and Abdelrahman Al Joukhi, an 86-year-old calligrapher, who demonstrated his use of oil paint to draw signage for all the shops in the exhibit.
Amman Design Week, which begins on September 1, aims to revive the Raghadan Tourist Terminal as a social space for craft, the statement said.
It aims to celebrate Jordan's craftspeople who have kept their methods, traditions and aesthetic values alive and inspired today's contemporary design practices.
The exhibition will feature craftspeople from across the country, as well as their collaborations with designers, and encourage the exchange of knowledge, techniques, and materials while preserving the link between cultural heritage and design, Her Majesty's office said.
Over 100 activities and exhibitions will be held at the Hangar and the Jordan Museum, as well as workshops and lectures across 40 spaces in the city, offering visitors the opportunity to interact with more than 100 designers and modern digital fabrication tools and technologies.
Related Articles
Sep 03,2016
AMMAN — Saturday marked the third official day of the Amman Design Week (ADW), offering a wide selection of learning and cultural opportunit
Sep 08,2016
AMMAN — In the final two days of its inaugural iteration in Jordan, Amman Design Week (ADW) continues to offer workshops, conferences, exhib
Oct 02,2017
AMMAN — In the run-up to the launch of its annual edition that will take place on Friday, Amman Design Week (ADW) has launched a video campa