You are here
Science League helps children become 'superhero inventors'
By Camille Dupire - Jan 17,2018 - Last updated at Jan 22,2018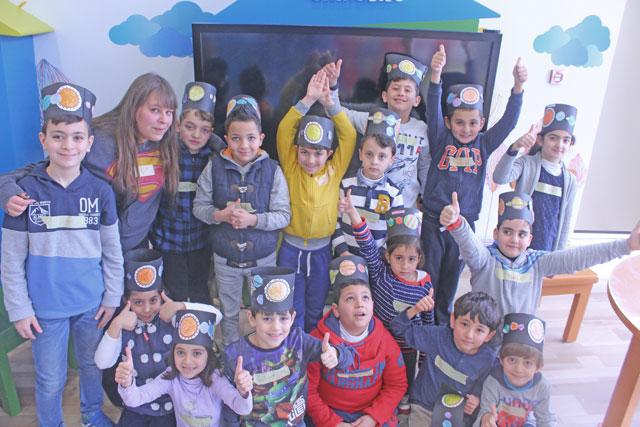 Co-founder of the Science League Farah Abu Hamdan poses for a group photo with children after a workshop (Photo courtesy of the Science League)
AMMAN — "We created the Science League [SL] because we wanted to make everyone feel like they could be their own superheroes and come up with their own inventions," recalled Hamza Arsbi, co-founder of the educational organisation The Science League.
Started in 2012 with his university friend Farah AbuHamdan, the group was composed of professors and students willing to expand people's understanding of science and make it more accessible to Arabic speakers.
"The Science, Technology, Engineering, and Mathematics [STEM] field was not very big at the time and very few organisations were working on it," Arsbi continued, noting that they started with small experiments and problem solving missions.
The "little bits" workshops, focused around innovative Arab engineers and scientists who had come up with new inventions, sought to familiarise the general public with the scientific sector.
"More than merely conducting workshops, we wanted to spread a vision, a culture of creation, discovery and scientific curiosity," Abu Hamdan stressed.
Four years later, a grant by the USAID helped the duo expand its action through the creation of workshops and brand new curricula.
"What the SL does is develop structured systems and organised programmes which we teach to other entities in order to support them in spreading scientific knowledge," explained Arsbi, who often volunteers with other organisations to teach them strategy building and management skills.
These programmes, which include training sessions, booklets and educational tips, aim to create a network of "Scientific Clubs" across the country, where children from six to 18 are encouraged to learn, explore and innovate.
Citing the Ahed initiative in Irbid and the Future Makers centre in Maan, among other organisations, Arsbi explained that, once local organisations are trained to the methods and systems developed by the SL, they can become independent entities of their own.
Asked what she thought of the session she just attended, Dana, 11, said: "Miss Farah, you should visit all the schools and come to our sixth grade class often."
Currently funded by the Abdul Hameed Shoman Foundation, which supports creativity, scientific research and cultural enrichment, according to its website, the SL plans to expand its action to wider fields, in order to reach even more students than the 4,000 they have already trained.
"We do not consider science as being solely the researchers working in their labs or the inventors of new medical and scientific discoveries. Instead, we look at science as a global knowledge that encompasses all kinds of skills," highlighted Abu Hamdan, adding "developing critical thinking, problem solving, mindfulness, etc also constitutes science for us".
Therefore, the SL is currently working on a psychological training programme, where art therapy and mindfulness will be used to enhance children's personal growth.
"We have been working with an art therapist, Ola Khorchid, who is helping us set up this new branch as we believe that children cannot benefit from science if they do not possess other skills such as self esteem, entrepreneurship spirit and personal happiness," Arsbi underscored.
Narina Zendaki, a teacher who was trained by the SL said: "In a short period of time, the Science League managed to play an important role in building creativity among the next generation. Combining science and technology with hands-on learning really helped my students enjoy their learning experience."
The SL, which is set to launch its new website next week, was also invited to take part in the Queen Rania Teacher Academy's teacher skills forum in March 2018, where they will deliver a workshop on art therapy in education.
up
14 users have voted, including you.
Related Articles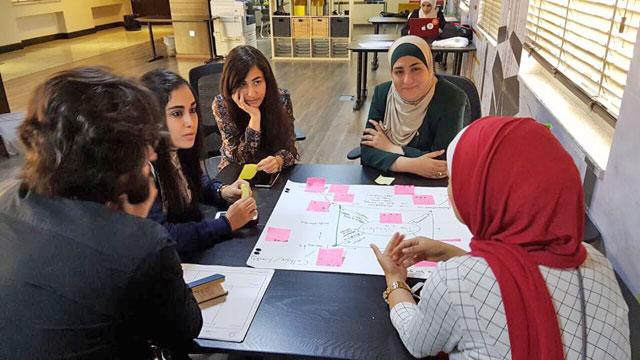 Sep 17,2017
AMMAN — A collaborative innovation forum concluded on Saturday, with recommendations to advance the discussions towards achieving the Sustai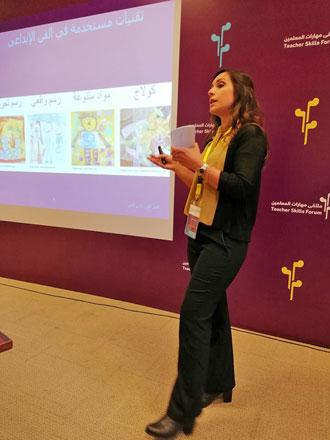 Mar 24,2018
AMMAN — Advocating for the use of art in expressing oneself and enhancing learning capacities, Jordanian Ola Khorchid called for the develop
Aug 06,2016
AMMAN — Singers Mohammad Assaf and Farah Siraj will be guests of honour at the 35th International Arab Youth Congress, which opens in Amman
Newsletter
Get top stories and blog posts emailed to you each day.