You are here
Suspects detained in attempt to smuggle 500,000 Captagon pills in flour bottles
By Rana Husseini - Apr 16,2014 - Last updated at Apr 16,2014
AMMAN — Anti-Narcotics Department (AND) agents on Wednesday foiled an attempt to smuggle a shipment of half-a-million Captagon pills that was destined for a neighbouring country, official sources said.
Two men, a Jordanian and a Syrian, were arrested in a raid by AND agents on a shop in Irbid, 80km north of Amman, and agents found the pills hidden in flour bottles, a senior AND agent told The Jordan Times.
The official said authorities are searching for more suspects but declined to give the number of individuals involved.
"We received a tip that a group of men had rented a shop claiming to store flour bottles for trade purposes, but in fact we suspected that they were involved in activities related to illegal drugs," the official added.
AND agents monitored the shop and the suspects for a while and "decided to raid the premises when they learnt that the gang was planning to transport the illegal shipment to Amman in order to smuggle it to a neighbouring country", according to a statement by the Public Security Department (PSD).
"Dozens of flour bottles were emptied and illegal pills were found carefully wrapped in plastic bags inside them," the PSD statement added.
The AND official said this is not the first time this method of smuggling has been used.
"We have faced a similar attempt in the past, where a group of individuals used the same exact method to smuggle drugs," he added.
Captagon (fenethylline) is a synthetic stimulant similar to amphetamine.
Although banned in most countries in the 1980s, illegally produced and smuggled Captagon — sometimes containing amphetamine instead of fenethylline — is a common drug abused in the Middle East, according to web sources.
A total of 8,945 suspects were involved in around 6,504 drug cases last year, according to official figures. The authorities seized over 22 million Captagon pills, 444 kilogrammes of hashish and 5,007 kilos of marijuana in 2013.
Related Articles
Apr 01,2015
The Anti-Narcotics Department (AND) said on Wednesday that its agents arrested a suspect in the northern region for allegedly hiding 37,000 Captagon pills inside olives that he intended to smuggle to a neighbouring country.
Nov 27,2016
AMMAN — Security agents on the Aqaba checkpoint have thwarted an attempt to smuggle 4 million Captagon pills, official sources said Sunday."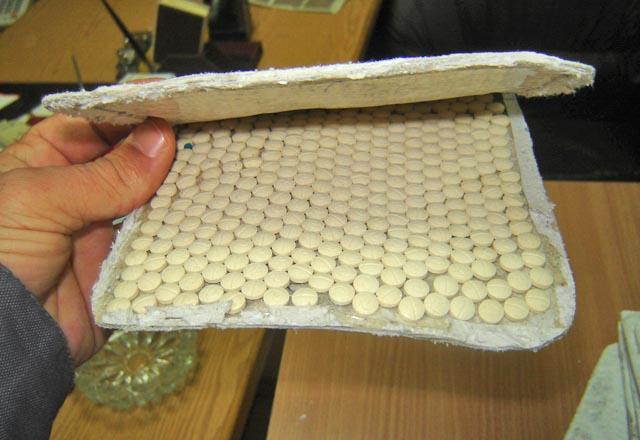 Jul 21,2014
Anti-Narcotics Department (AND) agents last week arrested six people who were allegedly attempting to smuggle one million Captagon pills to a neighbouring country, official sources said.
Newsletter
Get top stories and blog posts emailed to you each day.