You are here
UN delivers urgent relief to refugees stranded at Syria-Jordan border
By JT - Aug 04,2016 - Last updated at Aug 04,2016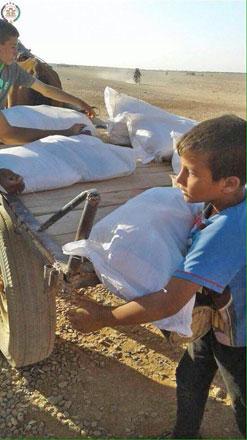 Syrian refugees on the border area between Jordan and Syria collect aid they received this week (Photo courtesy of Tribal Council of Palmyra and Badia)
AMMAN — UN agencies announced on Thursday the successful delivery of food and humanitarian relief items to more than 75,000 Syrians stranded near the northeastern border of the Kingdom.
The aid supplies will cover the needs of residents of the makeshift camp for a month, the UNHCR said in a statement on its website.
World Food Programme (WFP) Executive Director Ertharin Cousin, UNHCR High Commissioner Filippo Grandi, UNICEF Executive Director Anthony Lake and International Organisation for Migration (IOM) Director General William Lacy Swing issued a joint statement thanking Jordan for supporting the operation.
"Today the WFP, UNHCR, IOM and UNICEF completed an urgent relief operation to provide a one-month ration of desperately needed food and hygiene supplies to more than 75,000 people who are trapped along a land embankment, or Berm, at the Syria-Jordan border," the agencies said.
"Unable either to cross the border or turn back, the situation facing these women, men and children has grown more dire by the day. Sheltering in makeshift tents in harsh desert conditions with temperatures of up to 50°C and sudden sandstorms, they are without sufficient food and have barely enough water to survive," they added.
"Life-saving healthcare is also urgently required. Pregnant women, children, the elderly and the sick are especially vulnerable," the statement said.
The international organisations added: "We thank the government of the Hashemite Kingdom of Jordan for supporting this critical operation, and we look forward to further efforts to reach people at the Berm with humanitarian assistance in time to save their lives."
Jordan sealed the border area more than a month ago following an attack against a forward military post which killed seven troops and injured 13.
Before the border closure, UN agencies and aid organisations regularly delivered aid from Jordan's territory to Syrians stranded on the other side of the Berm, said the statement.
Related Articles
Oct 10,2016
AMMAN — Reports about the resumption of humanitarian aid to at least 75,000 displaced Syrians stranded in the no-man's-land along the Jordan
Sep 03,2016
AMMAN — A top UN official on Friday urged the international donor community to share the Syrian refugee burden with Jordan. At a press
Dec 08,2016
AMMAN — The Kingdom only allows the entry of humanitarian cases of displaced Syrians stranded in the berm area, the no-man's- land between t
Newsletter
Get top stories and blog posts emailed to you each day.