You are here
WFP chief 'discusses solutions' in Jordan as shrinking aid worsens refugees' conditions
By JT - Aug 12,2015 - Last updated at Aug 12,2015
AMMAN — A reduction in resources and financial aid for the UN World Food Programme (WFP) regarding Syrian refugees in Jordan has meant worsening conditions and decreasing opportunities for the migrants settling in the Kingdom, Executive Director of the WFP Ertharin Cousin has said.
Her remarks came in a WFP statement as the aid official concluded a visit to Jordan, during which she met government officials and Syrian families in order to assess the situation and discuss solutions.
She met a family living in the Hashemi Al Shemali neighbourhood of Amman, where they told her how difficult it has become to cope with such limited resources, and debilitating levels of debt. "I met a group of boys who have big dreams that they will not be able fulfil unless they can go to back to school," Cousin said after witnessing how parents had to take their children out of school in order to sustain their families.
Cousin spoke of Jordan's generosity in hosting almost half-a-million Syrian refugees, and praised the government's initiatives to encourage social cohesion among local and refugee communities. She emphasised the importance of international support so that the Kingdom can continue to play a crucial humanitarian role.
Assisting some 80 million people in around 80 countries, the WFP has been an important partner of the Kingdom's humanitarian aid, towards Jordanian citizens and Syrian refugees alike, the statement said.
Since the first waves of Syrian refugees started to cross into the Kingdom from Syria, fleeing a civil war, the organisation has contributed JD280 million to help the victims of the crisis. However, a WFP report has called for a need of $45 million to continue providing the assistance until the end of the year.
"We need those who have given to give more, and those who haven't given to invest in our work and in the future of Syria," stated Cousin, proposing to turn to the private sector for further financial aid.
Deputy Prime Minister and Minister of Foreign Affairs Nasser Judeh on Tuesday received Cousin to discuss the ongoing cooperation between the Kingdom and the WFP, the largest humanitarian agency fighting hunger worldwide.
Judeh highlighted the challenge Jordan has been facing in accommodating the refugees and called for the international community to help with this responsibility.
Also on Tuesday, Minister of State for Media Affairs and Communications Mohammad Momani met with Cousin.
He called for the WFP to draw up a plan to propel international donations. Momani, who is also the government's spokesperson, highlighted that donations would also be an important investment in the Kingdom's security as a whole.
Momani accounted for the financial and structural impacts that have affected the Kingdom as a conclusion of the mass influx of migration, and reminded the international community of their humanitarian responsibility.
Cousin stated during her meeting with Momani that WFP would continue to provide JD20 food vouchers for the refugees in Al Zaatari, Al Azraq, King Abdullah Park and Cyber City until November 2015, per each individual, besides distributing daily bread needs. It will also provide reduced food vouchers of JD10 or JD 5 per person for less afflicted brackets who are living within the local community.
Related Articles
Dec 04,2014
After being forced to suspend food assistance to nearly 1.7 million Syrian refugees earlier this week, the United Nations World Food Programme (WFP) on Wednesday launched an "ambitious" 72-hour campaign to raise $64 million which will reinstate refugee food vouchers in December.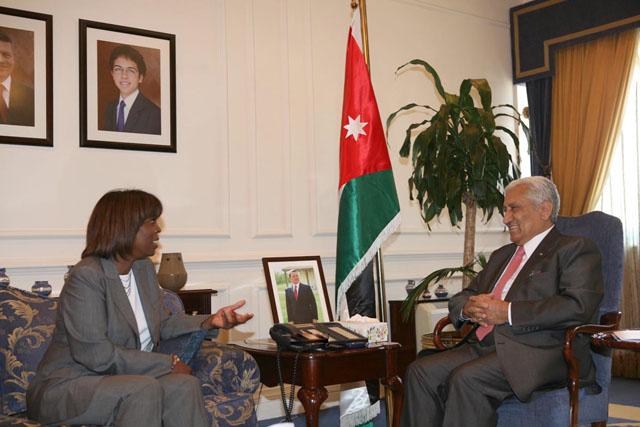 Jun 19,2014
Jordan is keen on continuing its cooperation with the UN World Food Programme (WFP) in providing aid and support for Syrian refugees, Prime Minister Abdullah Ensour said Thursday.
Dec 01,2014
The United Nations World Food Programme (WFP) on Monday announced that it has been forced to suspend a critical programme providing vouchers to more than 1.7 million Syrian refugees in neighbouring countries including Jordan.