You are here
Young Jordanian athlete receives int'l award for sport performance, community engagement
By Saeb Rawashdeh - Aug 10,2017 - Last updated at Aug 10,2017
Moath Al Khawaldeh (Photo courtesy of Moath Al Khawaldeh)
AMMAN — Jordanian marathon runner Moath Al Khawaldeh was recently awarded the global Athletes in Excellence Award for 2017, granted by the US-based Foundation for Global Sports Development (GSD).
The award honours competing and retired athletes who have demonstrated "champions' attitudes" not only in sports, but also in their communities by "giving back" through mentorship and outreach activities, according to its organisers.
Khawaldeh was one of 10 recipients of the award, based on his athletic achievements as a marathon runner representing Jordan in major international races, and on his work to improve underprivileged youths' access to sport in the Middle East, GSD organisers said.
"We are pleased to recognise this outstanding group of athletes. Our hope is for their stories to inspire the youth and adults to find ways to give back to their communities," GSD Executive Board Member Steven Ungerleider is quoted on the foundation's website as saying.
"I am honoured to be the only Arab athlete receiving this international award, which recognises athletes who display the highest levels of integrity in sport and commitment to service," Khawaldeh told The Jordan Times in an e-mail interview, adding that he was selected in recognition of his professional achievements as a marathon runner and his work to promote sport among underprivileged youth in Jordan, Tunisia and Lebanon.
"This award will enable me to continue my outreach work as Ambassador for the Beirut Marathon Association and Run Jordan, while continuing my training to represent Jordan in the 2020 Tokyo Olympics," Khawaldeh emphasised.
"Winning this award is a huge milestone in my professional and athletic career," the runner said.
"Now, I am training really hard to achieve the qualifying time for the 2020 Olympics. I have been invited to the renowned Elite Athlete Division of the Mammoth Track Club Training Camp in California, where I train under the supervision of the Olympic coach Andrew Castor along with athletes who are already Olympians," Khawaldeh said.
Khawaldeh and his coach have a three-year strategy plan for Tokyo 2020.
These days, his routine involves running up to a maximum of 161 km per week, split into two sessions per day, with no rest day.
"This is the life of an elite runner, as my coach said! It's all about eat, run and sleep," he added.
"Being recognised for my contribution to something I am very passionate about is really encouraging," Khawaldeh said, referring to his involvement with underprivileged young communities.
He explained that he became passionate about encouraging young people to realise their individual potential and achieve positive change through sport.
"I strongly believe in the potential of sports to change individual behaviour and to help solve regional conflicts by focusing on the youth", he said.
For Khawaldeh, "sports, like running, provide a way for young people to increase their self-confidence [physical and social] and to gain skills for positive interactions with others".
"I am looking forward to connecting with youth athletic communities all over the world in the coming years; to get together, learn, run and create positive impact on our communities through sport," the runner concluded.
He has received invitations to run as a Jordanian elite athlete in over 15 international marathons, including Beirut, London, Berlin, Hamburg and Chicago.
Related Articles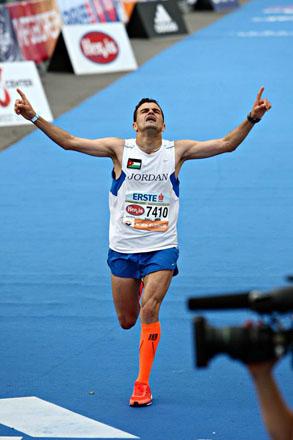 Oct 15,2015
AMMAN — "Running is more than a sport — it's a way of connecting with people worldwide who are committed to positive change, both for themse
May 12,2015
The 2nd Istiklal Run set for May 22 is being organised by a group of running enthusiast and ultra-marathon athletes.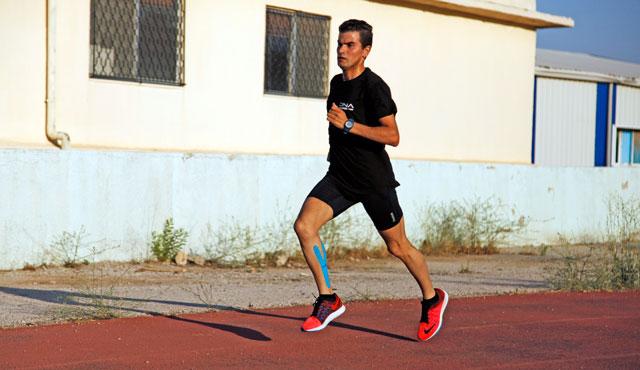 Jul 04,2016
By Sam McneilThe Associated PressAMMAN — After 16 hours without food or water, Moath Al Khawaldeh laces up pink training shoes and begins wo
Newsletter
Get top stories and blog posts emailed to you each day.