You are here
Israel offers to free Palestinian hunger striker if he goes abroad
By AFP - Aug 18,2015 - Last updated at Aug 18,2015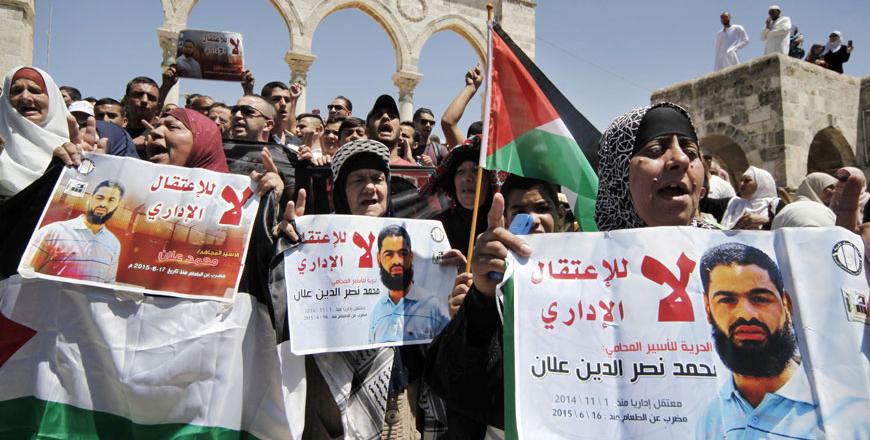 In this August 14 file photo, protesters hold up Palestinian flags and posters with pictures of Palestinian detainee and hunger striker Mohammed Allan during a protest in Al Aqsa Mosque complex in Jerusalem's Old City. Arabic posters read 'no to administrative detention' and call for his freedom (AP photo)
OCCUPIED JERUSALEM — Israel on Monday offered to free a Palestinian detainee whose two-month hunger strike has left him in a coma — but only if he goes abroad, a demand his lawyer immediately dismissed.
The justice ministry made its proposal ahead of a hearing at Israel's top court over whether to release Mohammed Allan, 31, who lapsed into a coma on Friday after ingesting only water since June 18.
The hearing came as tensions continued to rise in the Israeli-occupied West Bank, with a Palestinian shot dead after attempting to stab an Israeli security officer in the fourth such incident in just over a week.
After hearing arguments on whether to release Allan, the high court set another hearing for Wednesday. Allan's lawyers argued that his condition negated the authorities' stance that he posed a danger.
The justice ministry released a statement ahead of the hearing that included an offer to free Allan, a lawyer from northern West Bank town Einabus, "if he agrees to go abroad for a period of four years".
"We are categorically refusing that proposal", Allan lawyer Jamil Al Khatib told AFP.
Since he lost consciousness, doctors have used artificial breathing equipment, fluids and vitamins to keep him alive.
A doctor at the Barzilai hospital in Ashkelon where Allan is being treated told the court that he had not appeared to suffer irreversible damage but would probably not survive if he resumed his hunger strike.
A spokeswoman for Barzilai told AFP Allan's condition remained "stable".
"There are still a number of problems... and he is being treated accordingly," she said in a statement, noting the hospital was considering taking him off the respirator.
West Bank tensions
Tensions have soared in the West Bank in recent weeks in the wake of the firebombing of a Palestinian home in the village of Duma, attributed to Jewish extremists, which killed an 18-month-old child and his father.
On Monday, Israeli security forces shot dead a Palestinian who tried to stab a security officer at the Tapuah Junction near Nablus in the northern West Bank.
The Palestinian was identified as Mohammed Al Atrash, 22, from Kufr Raei, a village near the northern West Bank city of Jenin.
In similar attacks Saturday, Israeli forces shot dead a Palestinian who stabbed a security officer in the northern West Bank, hours after another Palestinian who stabbed a soldier near a checkpoint in the occupied territory was shot and wounded.
On August 9, Israeli troops shot dead a Palestinian who stabbed and lightly injured an Israeli civilian at a petrol station.
There are fears of an escalation of violence if Allan dies from his hunger strike.
He has been protesting his internment under administrative detention, which allows people to be held without charge for six-month intervals that can be renewed indefinitely.
He has been in custody since November 2014.
The Islamic Jihad movement describes Allan as a member, as does Israel, which has used administrative detention to hold Palestinians it deems to be security risks while not divulging what the authorities view as sensitive intelligence.
Many Palestinian prisoners have staged hunger strikes, including those on administrative detention.
Allan's protest has also raised questions over whether Israel would seek to invoke a law passed last month allowing prisoners to be force-fed when their lives are in danger.
Those who say the practice amounts to torture and robs Palestinians of a legitimate form of protest.
The law requires the authorities to seek a court order to allow for force feeding, which they have not done.
Related Articles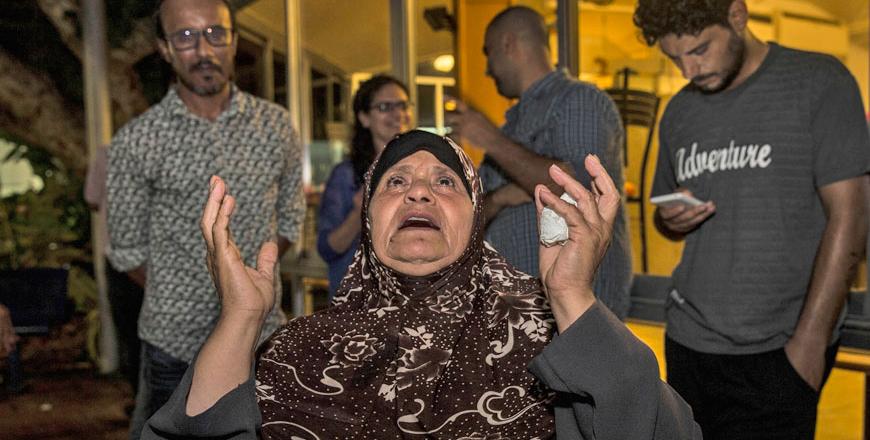 Aug 20,2015
ASHKELON, Israel — Palestinian detainee Mohammed Allan ended a two-month hunger strike Thursday that had put his life at risk and sparked in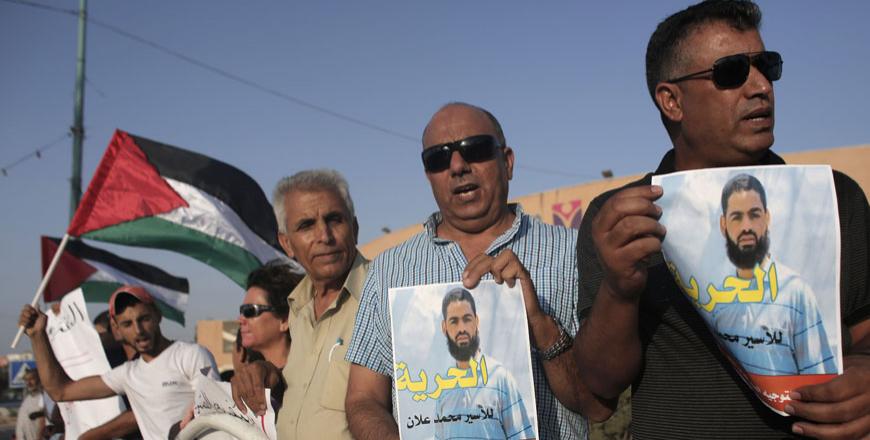 Aug 18,2015
OCCUPIED JERUSALEM — A Palestinian detainee on a two-month hunger strike emerged from a coma Tuesday but pledged to resume fasting if Israel
Sep 16,2015
OCCUPIED JERUSALEM — Palestinian Mohammed Allan renewed his hunger strike on Wednesday, his lawyer said, after Israel renewed his detention
Newsletter
Get top stories and blog posts emailed to you each day.