You are here
Libya PM slams armed groups blocking return of displaced
By AFP - Feb 05,2018 - Last updated at Feb 05,2018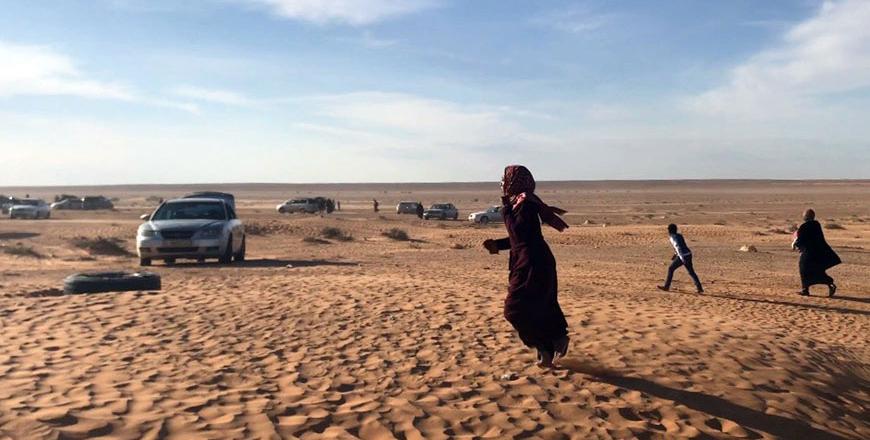 A displaced Libyan woman from the western city of Tawergha walks through the sand, as cars are seen waiting to enter the city, which lies about 250 kilometres east of the capital Tripoli, on Thursday, after armed groups from nearby Misrata set up roadblocks to prevent the return of hundreds of families from the town that supported Libyan leader Muammar Qadhafi in the country's 2011 revolution (AFP photo)
TRIPOLI — Libya's UN-backed government on Monday accused gunmen of "terrorising" thousands of displaced after armed groups opened fire at them to prevent them from returning to their town.
The displaced people are from Tawergha, a town that backed veteran dictator Muammar Qadhafi during the 2011 uprising that ousted and killed him.
The Government of National Accord (GNA) had said the displaced could return home after it struck an agreement with representatives of the western city of Misrata, which has jurisdiction over Tawergha.
But since February 1, the displaced have been stranded in a desert area after armed groups from Misrata blocked their return.
On Sunday, several media reports quoting witnesses said gunmen had opened fire at families near the oasis town of Bani Walid to intimidate them and prevent them from going to Tawergha.
Prime Minister Fayez Al Sarraj denounced the incidents.
A GNA statement said he "strongly condemns attempts by armed men to terrorise the Tawergha families" who have set up a makeshift camp in the desert region of Qararat Al Qatf near Bani Walid.
"These groups... are trying to sabotage reconciliation efforts between Misrata and Tawergha," Sarraj said.
The armed groups accused Tawergha residents of joining Kadhafi's forces to besiege Misrata for more than two months during the 2011 NATO-backed revolt.
They claim that during that time several people were killed while others were tortured and raped.
The 40,000 residents of Tawergha have been kept in camps on the outskirts of Tripoli or scattered across the country for the past seven years, living in wretched conditions.
Their plight has sparked concern from the United Nations and rights groups.
The UN agency for refugees, UNHCR, said Sunday it had delivered "much needed emergency relief", including blankets and sleeping mats, to 5,000 people stranded near Bani Walid, southeast of Tripoli.
Human Rights Watch Middle East and North Africa Director Sarah Leah Whitson urged the GNA to help them return to Tawergha "after seven years of forced displacement".
The GNA "needs to urgently ensure that thousands of families from Tawergha already on their way home are able to proceed in safety, and are not stranded in towns and at checkpoints without shelter and with dwindling supplies," she said.
Related Articles
Feb 03,2018
TRIPOLI — The United Nations expressed "grave concern" on Friday over the breakdown in a deal to allow thousands of displaced to return to a
Apr 01,2018
GARART AL GATEF, Libya — The wind whips up sand storms in Garart Al Gatef.
Feb 06,2018
TRIPOLI — More than six years after they were forced to leave their homes in the civil war that toppled Muammar Qadhafi, tens of thousands o
Newsletter
Get top stories and blog posts emailed to you each day.