You are here
Brazil has left FIFA with a huge challenge, says Valcke
By Reuters - Mar 01,2014 - Last updated at Mar 01,2014
ZURICH — FIFA has been left with a huge challenge following Brazilian delays in building stadiums for the 2014 World Cup, Secretary General Jerome Valcke said Saturday.
"We are working in conditions where the cement is not even dry," Valcke told reporters as Tuesday's 100 days to kickoff milestone approaches.
"We still have to install all the IT solutions for the media. Without IT and without the telecommunications in place in the stadium you will say we are the worst organisers and it was the worst event," he said.
"But to install the IT in a stadium, it needs at least 90 days and we have to work for all the people who have an interest, our commercial partners, our media partners, hospitality..."
"The ball starts rolling on June 12 until
July 13 and I think things will work well then, but it is also true that whenever you receive something late, it becomes a challenge to make it ready in time," Valcke added.
"I am not a World Cup specialist but I will say this has not been easy for sure," he told reporters gathered after a meeting of the annual International Football Association Board, the game's law-making meeting.
"We are almost at 100 days before the first game starts in a stadium in Sao Paulo which is still not ready and won't be ready until May 15.
"And as you know another two stadiums [in Curitiba and Manaus] are quite late."
Backside kick
Two years ago this weekend Valcke delivered his famous "Brazil needs a kick up the backside" line which incensed the local organising committee, but certainly had something of the desired impact.
Asked if the Brazilians now needed another kick up the backside, Valcke deflected the question.
"Ask me that when the World Cup is over," he replied.
"We have already had to put things in place and it is very last minute work, but it will work at the end. It will work, and you will have what you expect and the teams will have the best," Valcke said.
"For sure, the stadiums are beautiful but now it is a challenge for the organisers. And that is not a criticism. It is just a challenge. We have to find the solutions."
Related Articles
Apr 23,2014
Rio de Janeiro's legendary Maracanã Stadium was in a frenzy. Brazil had trounced the Spanish world champions. Yet 73,000 football fans could scarcely send a text message to celebrate.
Mar 03,2014
Brazil is running out of time. World Cup organisers will mark 100 days to go on Tuesday with a lot of work still to be done on stadiums and infrastructure in the 12 host cities.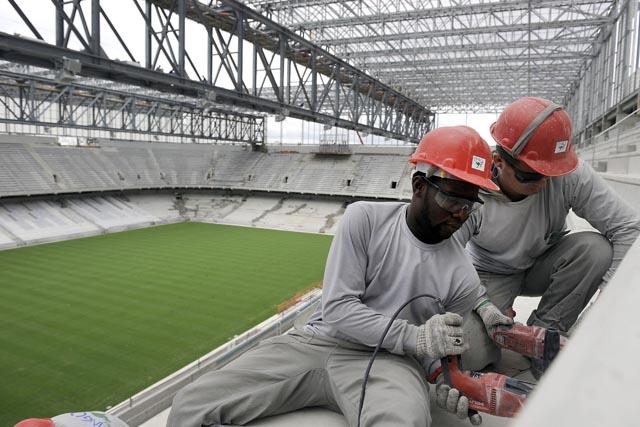 Feb 19,2014
FIFA says it will not pay some of Brazil's World Cup bills even though it admits the local organisers' failure to fulfill their commitments may jeopardise the tournament's success.
Newsletter
Get top stories and blog posts emailed to you each day.