You are here
Jordan run comes to an end at U-17 Women's World Cup
By Aline Bannayan - Oct 08,2016 - Last updated at Oct 08,2016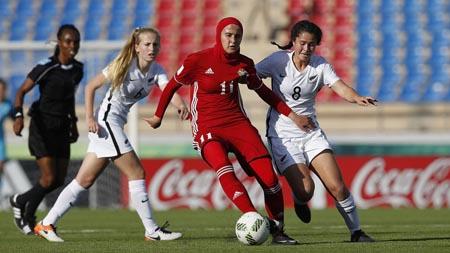 Jordan's Tasneem Abu-Rob (centre) gets challenged by Nicole Mettam (left) and Malia Steinmetz (right) of New Zealand during their FIFA U-17 Women's World Cup Group A match on Friday in Zarqa (AFP photo by Boris Streubel)
AMMAN — Jordan ended its matches at the FIFA U-17 Women's World Cup currently under way in Amman going down to New Zealand 5-0 while Mexico took over the group lead after a 1-1 draw with Spain in Group A on Friday.
The match at the Prince Mohammad Stadium in Zarqa was attended by over 4,000 spectators cheering on the home team which was hoping to come away with a draw after an opening 6-0 defeat to European champs and U-17 runner-up Spain and a 4-1 defeat to Mexico in the match in which Jordan was the first to score through Sarah Abu Sabbah who made history by scoring Jordan's first goal in the Kingdom's inaugural appearance in the U-17 World Cup.
New Zealand were also eliminated from Round 1 after also losing to Mexico 5-0 and to Spain 2-0. On Friday, it was a chance for both teams to end the tournament on a good note. New Zealand's Hannah Blake scored three, including one just five minutes into the game. While Sam Tawharu scored two as Jordan's goalie Rand Albustanji could not do much with the defence seeming shaky and the strikers not posing any threat to the rivals goal.
After the first half ended 2-0, the guest team went on to score third goal and added another two in the dying minutes of the match ending it 5-0.
Jordan coach Robbie Johnson noted his disappointment that his side did not have a better performance.
"I thought today's game might give us an opportunity to compete on equal terms. We hoped to be able to deliver a better performance, but that plan failed when we conceded an early goal. Nevertheless, we had the opportunity to gather international experience at the highest level. Although some of the girls were extremely disappointed, I told them that this has to make us stronger, not weaker," he told FIFA.com.
New Zealand coach Gareth Turnbull told FIFA.com that he was elated that his team was able to score five goals at a World Cup. "Today's match wasn't easy. Scoring early on obviously played into our hands and helped settle our nerves, but Jordan refused to give up. One thing we learned at this tournament is that we have to play more games against teams at the highest international level. Although that's not always easy to arrange in our confederation, it will be our aim for the future."
In other Group B matches on Friday, Germany beat Cameroon 2-0 to take the group lead and qualified to the quarters along with Venezuela, which beat Canada 2-0.
In Group C, North Korea topped the group and went into the quarters along with England.
In Group D, Japan led the group into the quarters followed by Ghana in second place.
The biggest sporting event to be hosted in the Kingdom registered a series of firsts for Jordan and the region. Not only was this the nation's first appearance at the U-17 Women's World Cup, it was Jordan's first appearance at any level at a FIFA World Cup. It was also the first time that a women's tournament of this scale has been hosted in the Middle East region.
Regardless of match results, most observers concur hosting the event is a major milestone. The tournament has undoubtedly provided much needed competitive experience for Jordan's squad and provided a big boost to women's sports in general.
The draw put the 16 teams into four groups with the top two teams from each group moving on to Round 2. Round 1 ended October 8, while the quarters will be played on October 12-13, the semis on October 17 and 3rd and 4th place, and the final on October 21.
Jordan is the only Arab team at the U-17 World Cup after Egypt and Morocco were eliminated from the qualifiers. Cameroon is the other country to never have previously participated in the U-17 World Cup.
With nations from all continents competing in the event and visiting the region and Jordan for the first time, many teams took advantage of a two-day break ahead of the weekend and headed to Petra, the Dead Sea and visited historical sites in the capital.
Related Articles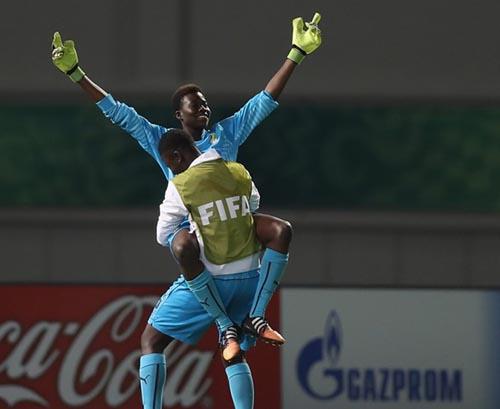 Oct 11,2016
AMMAN — The FIFA U-17 Women's World Cup gets into high gear on Wednesday when the quarter-finals kick off in Amman and Irbid, with eight tea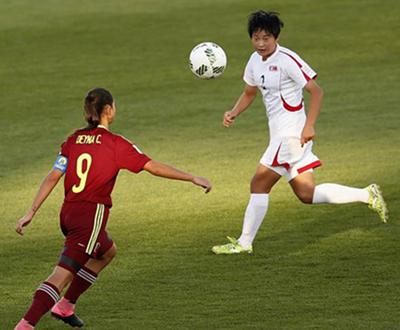 Oct 20,2016
AMMAN — Japan will take on North Korea in the final of the 2016 U-17 Women's World Cup at the Amman International Stadium at 8pm on Friday.T
Oct 12,2016
AMMAN — Deyna Castellanos struck twice on Wednesday as Venezuela came from behind to beat Mexico 2-1 in the quarter-finals of the 2016 U-17
Newsletter
Get top stories and blog posts emailed to you each day.