You are here
Jordanian runners take advanced spots at Ayla Red Sea Half Marathon
By Roufan Nahhas - Dec 10,2016 - Last updated at Dec 10,2016
AMMAN — The 12th edition of the Ayla Red Sea Half Marathon concluded on Friday with Jordanian runners taking advanced spots in an event which witnessed the participation of more than 2,000 runners from all over the world.
Nasser Shraideh, the chief commissioner of the Aqaba Special Economic Zone Authority, gave the starting signal at the Ayla Oasis project for the 21km, 10km Fun Run and 4.2km Children's Race.
Lina Al Kurd, the general manager of Run Jordan, told The Jordan Times it was a success.
"This year the event is under the slogan "Run for a Cause" to highlight an important aspect of all Run Jordan events, with 20 per cent of the ticket sales go to charity. We thank everyone who worked on making this event a success especially the families who came and enjoyed such a great event," she said.
"Also, this year Run Jordan established cooperation agreements with several societies that cater for the physically handicapped in various parts of the Kingdom including: Al Yasmeen Society for the Down syndrome, the Disabled Child Care Society in Irbid in addition to Ajyal Society for the physically handicapped based in Aqaba," she added.
According to Kurd, two new trophies have been added to the children's race categories for the first place winner in the wheelchair category and the Down's syndrome category.
Results:
Male Overall 21Km
• Ahmad Samour 1h 06m 43s
• Ayman AlSardy 1h10m20s
• Abdulla Alsoud 1h10m23s
Female Overall 21Km
• Hanoia Hasaballah 1h24m46s
• Heidi Schelander 1h28m06s
• Razan Muqbil 1h37m28s
Male wheelchair 21Km
• Ali Sawalmeh 1h20m18s
• Ra'ed Qasaymeh 2h12m14s
• Fahed Abu Reziq 2h23h55s
Male Visually Impaired 21km
• Abdelraouf Al Khateeb 1h21m31s
• Suheil Alnashash 1h27m43s
• Emad Elayan 2h09m55s
Male Overall 10Km
• Awad Sharafat 31m08s
• Hamzeh Al Oshoush 31m18s
• Mohammad Al Shamalat 31m23s
Female Overall 10 Km
• Sabria Almaradat 40m43s
• Haddel Aldughaimat 40m44s
• Naheda Al bwat 42m21s
Male wheelchair 10km
• Bilal Abu Mansi 36m26s
• Alaa Al Dein Alqoz'a 43m20s
• Abdulla Mansour 1h03m13s
Female wheelchair 10km
• Shadiah Omar 1h02m12s
Visually impaired Male 10km
• Nabeel Maqableh 35m01s
• Hasan Tayem 50m04s
• Mohammad Alnakeeb 1h14m50s
Children race:
• Ehab Al Shamalat 14m10s
• Mubarak Daaja 14m56s
• Mohammad Qtaish 15m20s
Children Female
• Naseeba al Osheibat 16m01s
• Hiba Omar 16m10s
• Hanan Al Oshosh 16m23s
Children Race Male wheelchair category:
• Ibrahim Alkhudari 23m18s
Children Race Female wheelchair category:
• Malak Diab 45m17s
Children Race Male Down's syndrome category:
• Mohammad Qasrawi 53m52s
Children Race Female Down's syndrome category:
• Yasmeen Hantouli 50m06s
Related Articles
Dec 04,2016
AMMAN — The 12th edition of the Ayla Red Sea Half Marathon will be held on December 9 with the participation of thousand of local, regional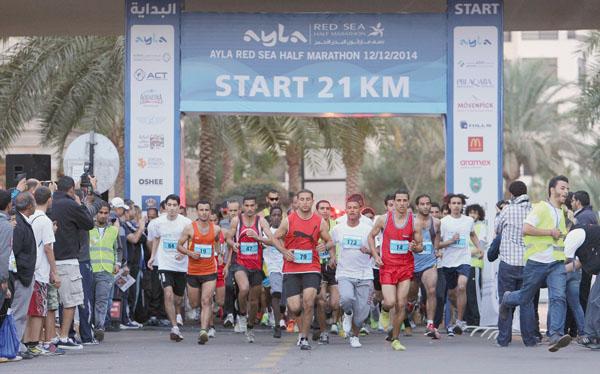 Dec 13,2014
Jordan's Rafat Zboun on Friday was crowned champion of the 21km men's category of the Ayla Red Sea Half Marathon.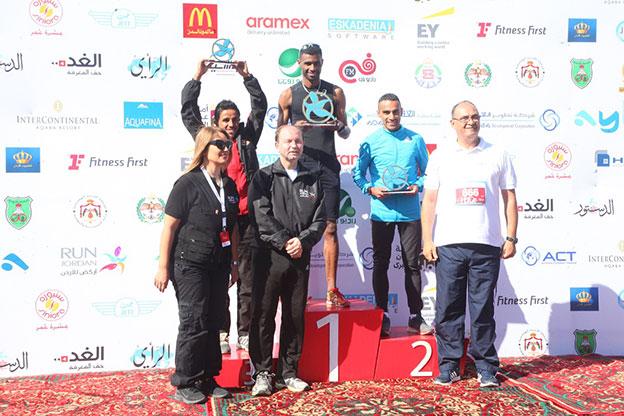 Dec 09,2017
AQABA — The Ayla Red Sea Half Marathon concluded on Friday with Jordanian runners taking lead positions in the event, held under the patrona
Newsletter
Get top stories and blog posts emailed to you each day.