You are here
Jordanian runners take lead in Ayla Red Sea Half Marathon
By Roufan Nahhas - Dec 09,2017 - Last updated at Dec 09,2017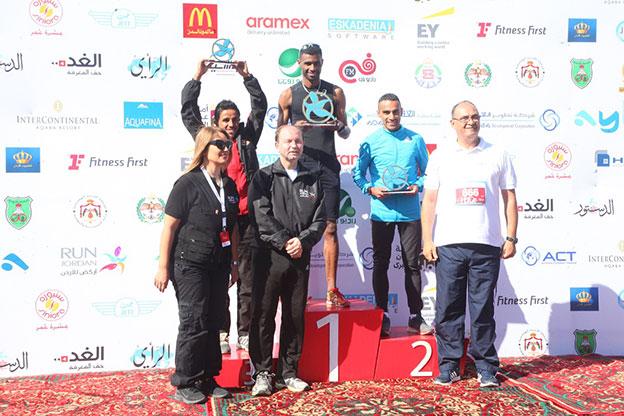 HRH Prince Firas, organisers and winners of Ayla Red Sea Half Marathon pose for a photo in Aqaba on Friday (Photo courtesy of Run Jordan)
AQABA — The Ayla Red Sea Half Marathon concluded on Friday with Jordanian runners taking lead positions in the event, held under the patronage of HRH Prince Firas Bin Raad and organised by Run Jordan.
Around 2,500 local, regional and international runners took part in the race's different categories; 21km, 10km Fun Run and 4.2km Children's Race.
Lina Al Kurd, general manager of Run Jordan, told the Jordan Times that "the event was a success".
"This is one of the main attractions held in Aqaba. The number of participants is very encouraging and shows that people need such events whether for sports or leisure as Aqaba provides the best weather during this time of the year in addition to the many facilities for all runners," she said.
"This year's event is held under the slogan 'Run for a Cause', and a portion of the proceeds will go to Al Haya Charitable Association for Wheat Allergic Patients," she added.
According to Kurd, Jordanian runners proved themselves to be professional runners in this event by taking lead positions.
"Jordanian runners are always proving themselves through training and serious dedication and they did well in the marathon," she stated.
Results
In the Male Overall 21km category Mohammad Abu Reziq took the first place, finishing at (1:06:50), while the second place went to Ahmad Samour (1:09:07) and the third to Ayman Al Soradi (1:10:42).
Hanoia Hasaballa came first in the Female Overall 21km with (1:18:26), followed by Sabreyyeh Al Maradat (1:32:48) and Miriam Saleh (1:43:57).
In the Male Wheelchair 21km Ali Sawalmeh came first with (1:15:04), while second place was taken by Tayseer Al Khatib at (2:08:46) followd by Ra'ed Hwaeti at (2:24:56).
Abdul Raouf Al Khateeb won the first place in the Male Visually Impaired 21km race, finishing with (1:22:13), followed by Suhail Al Nashash at (1:28:40).
Male Overall 10km first place went to Ra'fat Qasem (0:30:50), second place to Bashar Rhayel (0:31:14) and third to Mohammad Ateieh (0:31:23).
Female Overall 10km first placer Hana Al Oshosh finished the race at (0:41:39), while Ayat Al Maradat took second with(0:43:20) followd by Nosaiba Al Osheshat with (0:43:40).
Bilal Abu Mansi finished first in the Male Wheelchair 10km race, recording (0:37:17), while Kamal Al Tawalbeh came second at (0:41:38), Ahmad Mahasneh at (1:07:25) took the third slot.
In the Female Wheelchair 10km race, first place was won by Mofeeda Mustafa finishing at (1:22:59), and second place by Salma Shareef at (1:48:02)
Visually Impaired Male 10km's first prize winner Nabeel Magableh finished the race at (0:35:31), followed by Tareq Tayem in second place (0:56:13), Ahmad Abu Zaid (0:58:34) in third.
And in the Visually Impaired Female 10km category Jumana Al Zoubi at (1:16:44)took the first place, followed by Israa Abu Haija at (1:34:53) and Nada Al Mansi at (1:49:20).
Children race: males first place Hussein Masaeed (0:14:09), second place Raja Al Ghayath (0:14:18) third place Hamzeh Rahhal (0:15:23).
Female first place: Ikhlas Al Shar'a (0:18:56), second place Farah Masaeed (0:19:20), third place Amnam Al Oshosh (0:19:28).
Related Articles
Oct 29,2016
AMMAN — The 8th edition of the Samsung Amman Marathon, organised by Run Jordan, concluded on Friday with the participation of 10,000 local a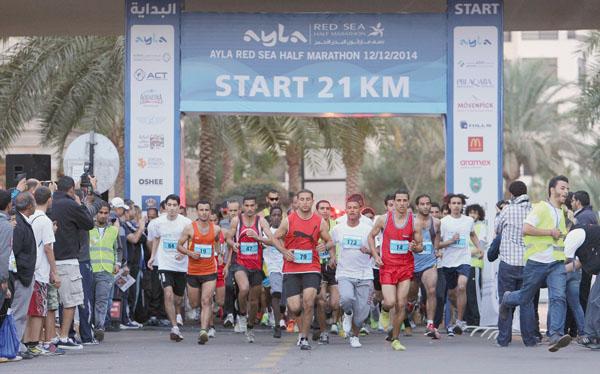 Dec 13,2014
Jordan's Rafat Zboun on Friday was crowned champion of the 21km men's category of the Ayla Red Sea Half Marathon.
Dec 10,2016
AMMAN — The 12th edition of the Ayla Red Sea Half Marathon concluded on Friday with Jordanian runners taking advanced spots in an event whic
Newsletter
Get top stories and blog posts emailed to you each day.