You are here
Lillard's 50 not enough as Raptors beat Blazers
By AP - Mar 05,2016 - Last updated at Mar 05,2016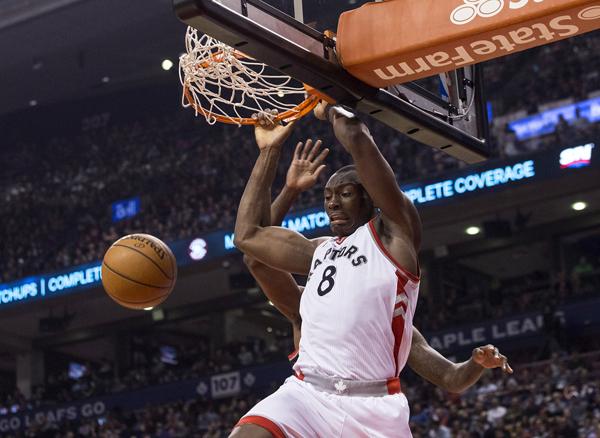 Toronto Raptors' Bismack Biyombo scores on Portland Trail Blazer's Ed Davis during their NBA game in Toronto on Friday (AP photo by Chris Young)
TORONTO — Toronto overcame a huge game by Portland's Damian Lillard and beat the Trail Blazers 117-115 in a thrilling contest on Friday, extending the Raptors' home winning streak to 12 games.
The Atlantic Division-leading Raptors stayed two games behind Cleveland for the overall best record in the NBA's Eastern Conference, with the Cavaliers maintaining that buffer by cruising past Washington.
The Cavs extended their lead in the Central Division to 12 games ahead of Indiana, which lost at Charlotte in a clash of contenders for the lower play-off positions, while Memphis shored up their postseason ambitions with victory over Utah.
Portland's Lillard scored 50 points, one shy of his career high set last month against Golden State but it was still not enough for the Trail Blazers. He and C.J. McCollum were the only players in double figures for the visitors.
DeMar DeRozan had 38 points and Kyle Lowry added 28 for Toronto. DeRozan went 24 for 25 from the free-throw line, both career highs.
Cleveland star LeBron James was on track for a triple-double before sitting out the fourth quarter, and his efforts helped the Cavaliers beat Washington 108-83.
The Cavs were blown out at Washington on Sunday, when James watched from the bench and the Wizards built a 30-point lead. But with James energised after not playing since Monday, and Cleveland using a "small" line-up as forward Kevin Love got the night off, the Cavs snapped Washington's four-game winning streak.
James finished with 19 points, 13 rebounds and seven assists. Timofey Mozgov scored 14 points, 12 on dunks, for Cleveland.
John Wall scored 17 for the Wizards.
Charlotte's Kemba Walker scored 33 points and had 10 assists to guide the Hornets past Indiana 108-101.
Walker shot 9 of 17 from the field and made all 11 free throws for his 10th 30-point game of the season, while Nicolas Batum added 31 points for the Hornets, who swept the three-game series with the Pacers for the first time in franchise history. Walker has averaged 29.6 points during Charlotte's current three-game win streak.
Charlotte, which shot 48.1 per cent for the game to improve to 21-9 at home.
Paul George scored 35 points to lead the Pacers.
Memphis' Zach Randolph scored 25 points and grabbed four rebounds in the final minute to secure a 94-88 win for the Grizzlies against Utah.
Randolph, who finished with eight rebounds, was 9 of 18 from the field. Lance Stephenson, acquired by the Grizzlies at the trade deadline, had 16 points on 8-for-11 shooting.
Gordon Hayward's 18 points led the Jazz, who are sliding from playoff contention after five straight losses.
Boston only just extended its home winning streak to 13 games by edging New York 105-104.
Boston trailed by eight points in the fourth quarter but used a series of mini-runs to eventually take the lead for good on the driving layup by Avery Bradley with 17.7 seconds left.
Isaiah Thomas had 32 points and Evan Turner had 21 for the Celtics.
New York's Carmelo Anthony had a chance to win the game in the closing seconds but badly missed a 3-pointer off the backboard as time expired. Anthony had 30 points for the game.
Atlanta had six players in double figure in their 106-77 rout of the Los Angeles Lakers, completing their first sweep of that season series for 42 years and sending the Lakers to their 10th loss in 11 games.
Milwaukee's Khris Middleton scored 32 points, becoming the first Bucks player to sink eight 3-pointers in a game for five years, as the hosts downed Minnesota 116-101.
Miami's Hassan Whiteside had 19 points and 19 rebounds to lead the Heat past Philadelphia 112-102, inflicting an 11th successive defeat on the 76ers.
Phoenix ended a run of 17 consecutive road losses by winning 102-84 at Orlando, led by a career-high 31 points and 15 rebounds from Alex Len.
Brooklyn's Brook Lopez tipped in a basket with four tenths of a second left in overtime to give the Nets a 121 win against Denver.
Related Articles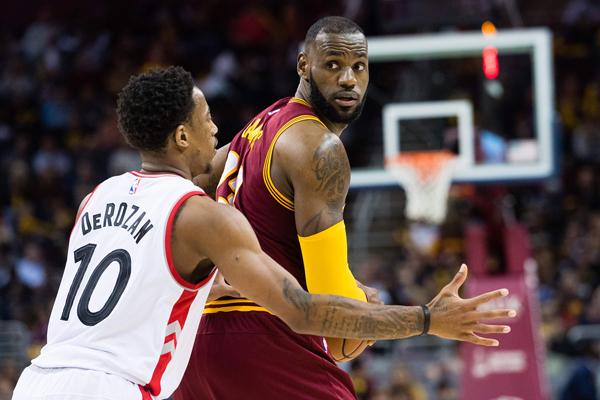 Nov 16,2016
CLEVELAND — Cleveland's LeBron James had 28 points and 14 assists to lead the Cavaliers over Toronto 121-117 on Tuesday, matching the best s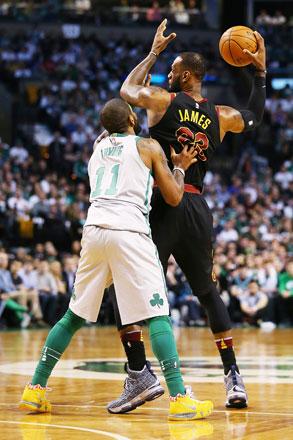 Feb 12,2018
On the day the Celtics retired Paul Pierce's number, LeBron James stole the spotlight, leading the new-look Cleveland Cavaliers to a 121-99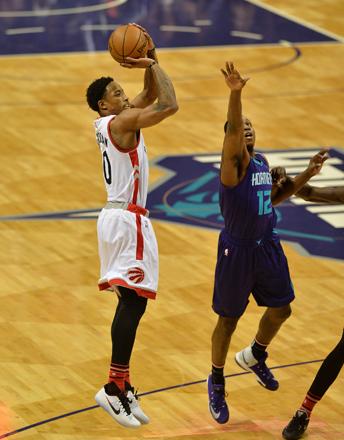 Nov 12,2016
WASHINGTON — Adding a win to their White House visit, LeBron James and the Cleveland Cavaliers capped a perfect trip to the nation's capital
Newsletter
Get top stories and blog posts emailed to you each day.