You are here
Spurs beat Pistons to clinch play-off spot
By AP - Mar 03,2016 - Last updated at Mar 03,2016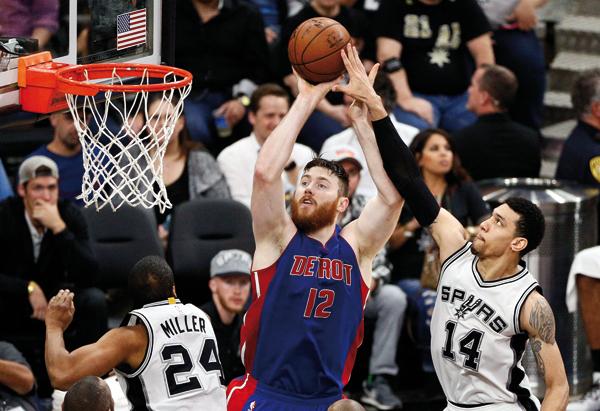 Detroit Pistons centre Aron Baynes shoots the ball as San Antonio Spurs shooting guard Danny Green defends during their NBA game in San Antonio on Wednesday (Reuters photo by Soobum Im)
SAN ANTONIO, Texas — Kawhi Leonard scored 27 points and LaMarcus Aldridge added 23 as the San Antonio Spurs beat the Detroit Pistons 97-81 on Wednesday night to clinch their 19th straight play-off berth.
San Antonio (51-9) won their 29th straight home game to open the season in their first game following a month-long road trip brought on by the San Antonio Stock Show and Rodeo.
San Antonio joins Golden State as the only teams to clinch spots in the postseason.
Leonard and Aldridge excelled against a Detroit team thinned by injuries to forwards Anthony Tolliver and Stanley Johnson. Aldridge added 10 rebounds and Leonard had six rebounds and five assists for San Antonio, which have won six straight.
Detroit centre Andre Drummond had nine points and 14 rebounds, ending his career-high and the league's season-high of consecutive double-doubles at 13 straight.
In Los Angeles, the Oklahoma City Thunder took the court hours after the death of part-owner Aubrey McClendon and squandered a 22-point lead to lose to the Los Angeles Clippers 103-98.
The Clippers ended the game with a stunning 26-5 run after trailing by 16 points with 7:30 left. The Thunder had only one field goal during that stretch, a 17-foot jumper by Durant. It was the largest comeback win of the season for the Clippers.
Kevin Durant scored 30 points and Russell Westbrook had 24 points and 12 assists for Oklahoma City.
D.J. Augustin scored 22 of his 26 points in the fourth quarter to lead six Denver players in double figures as the Nuggets beat the Los Angeles Lakers 117-107 in Kobe Bryant's final game at the Pepsi Centre.
Emmanuel Mudiay added 22 points and the Nuggets used a 10-0 run midway through the final quarter to gain some separation.
Bryant finished with five points and didn't play in the second half because of a sore right shoulder. Fans kept chanting "We want Kobe" as he sat on the bench with a wrap on his shoulder.
The Nuggets honoured Bryant with a video tribute during a timeout in the first quarter.
In Houston, James Harden had 39 points, 11 rebounds and seven assists to help the Rockets overcome miserable shooting in a 100-95 victory over New Orleans.
Houston went 3 of 34 on 3-point attempts and committed 21 turnovers but were able to rally past New Orleans thanks to an off night from Pelicans star Anthony Davis.
With their horrendous shooting performance, Houston became the first team in NBA history to make fewer than four 3s on 30 or more attempts.
Toronto's Kyle Lowry scored 32 points and DeMar DeRozan added 31 as the Raptors beat Utah 104-94 for a club-record 11th straight home win.
Lowry, who had a career-high 43 points in a victory over Cleveland on Friday night before being rested Sunday in a loss at Detroit, added five assists and four rebounds. Toronto (40-19) led the entire second half on the way to their fifth win in six games.
The Jazz (28-32) were led by Gordon Hayward, who had 26 points, six assists and three rebounds. Derrick Favours added 15 points and seven rebounds for Utah, which have lost four straight and 7 of 11.
There were 11 lead changes and nine ties in the first half before the Raptors took control.
In Orlando, Nikola Vucevic scored 24 points and rookie Mario Hezonja added a career-high 21 as the Magic beat Chicago 102-89.
Derrick Rose led Chicago with 16 points, all in the first half. Pau Gasol had 12 points and Doug McDermott was the only other Bulls player in double figures with 11.
Both teams were on the second game of back-to-back and it looked it. Orlando hit only 40.2 per cent, while Chicago shot just 38.4 per cent from the field.
Washington's Bradley Beal scored 26 points and Alan Anderson added 18 to earn the Wizards a fourth straight victory with a 104-98 defeat of Minnesota.
Ricky Rubio had 22 points and six rebounds, Zach LaVine scored 21 and Karl-Anthony Towns had 14 points, 15 rebounds and five assists for the Timberwolves. Minnesota made 29 free throws to just nine for Washington, but 19 turnovers did in the young Wolves.
In Boston, Isaiah Thomas had 30 points to lead the Celtics to a fourth straight win in a resounding 116-93 defeat of Portland.
Avery Bradley added 17 points as the Celtics won their 12th straight at home. The streak ties Boston's longest since they won 13 straight at the Garden during the 2008-09 season.
Six Boston players reached double figures and the Celtics also outscored Portland 60-34 in the paint, while committing just five turnovers.
Mike Conley scored 24 points, including 10 in the fourth quarter, to lead Memphis to a 104-98 home victory over Sacramento.
Conley, who also had five assists, shot 9 of 12, including all three attempts from 3-point range as the Grizzlies won their second straight and sixth in the last eight.
Zach Randolph finished with 19 points and eight rebounds for Memphis, while JaMychal Green and Mario Chalmers scored 15 apiece. Chris Andersen added 10 points, including the final two free throws with 17 seconds left to seal the victory.
DeMarcus Cousins led the Kings with 18 points and 16 rebounds, but was 7 of 18 from the field. Darren Collison finished with 17 points.
In Milwaukee, Jordan Hill had 19 points and Indiana survived a last-minute rally to defeat the Bucks 104-99 and end a three-game losing streak.
Paul George and Rodney Stuckey added 15 each for Indiana.
Khris Middleton had 23 points to pace the Bucks, who have lost three of four. Giannis Antetokounmpo added 22 and Jabari Parker 18 for Milwaukee.
Charlotte's Kemba Walker scored 30 points and Cody Zeller had 15 as the Hornets won comfortably at Philadelphia, 119-99.
The Hornets became the latest team to top 100 points against the 76ers, reaching that mark with 5:26 left. The Sixers have allowed 100-plus in nine straight games and more than 120 points four times during that span.
Related Articles
Oct 31,2017
Kyrie Irving played his best game with his new team, finishing with 24 points and six assists to lead the Boston Celtics to their fifth stra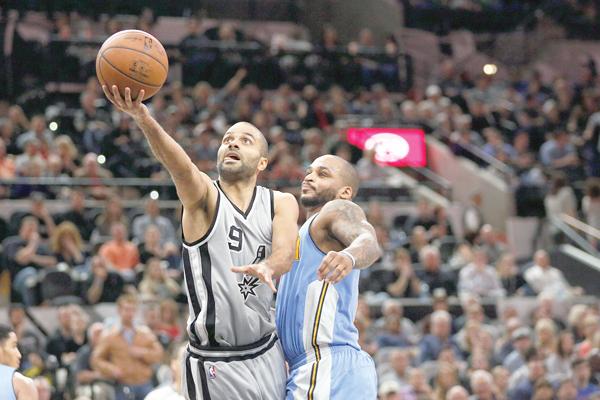 Dec 28,2015
SAN ANTONIO — San Antonio immediately bounced back from a rare loss and beat Denver 101-86 on Saturday to extend their franchise record for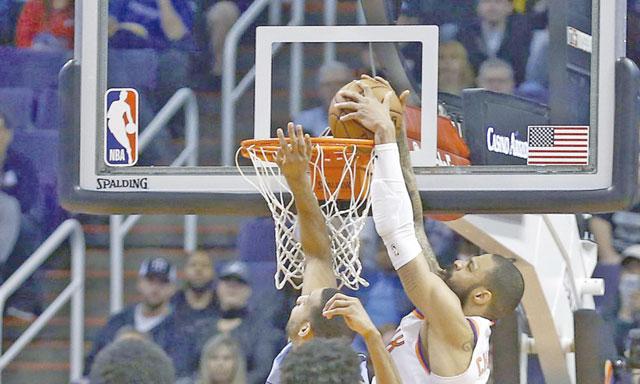 Dec 27,2017
Tyson Chandler slammed home an alley-oop dunk off a Dragan Bender inbounds feed with four-tenths of a second left, and the Phoenix Suns held
Newsletter
Get top stories and blog posts emailed to you each day.